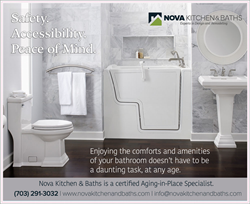 over 1/8th of the population is over the age of 65
Vienna, VA (PRWEB) October 27, 2015
Nova Exteriors, Kitchen & Baths is taking its twenty-plus years of home remodeling experience and expanding its product offering. This time it's to provide and protect the aging population with worry free options to age-in-place. Beginning October 2015 they will offer walk-in tub and shower remodeling services to accommodate the ever-increasing retired, elderly, and disabled population. 
Millions of baby boomers are retiring each year and seek to enjoy the comfort and familiarity of the home in which they've raised their children and hosted their family. Through the addition of home modifications and specialty remodeling products, such as walk-in tubs, the elderly can continue to enjoy the comforts of a warm bath without the dangers of getting in and out of a traditional tub. Accessibility, ease of use, stabilizer bars, low-clearance thresholds, amongst other features highlight some of the features seen in many of the modified homes design to assist the elderly to stay at home.
Nova Exteriors, Kitchen & Baths is based in Vienna, VA where over 1/8th of the population is over the age of 65. President of NOVA, Peter Vlantis, said, "We recognize the Washington DC Metropolitan area is one of the most transient in the nation. However, we also realize that Vienna is one of the truly unique towns in the area. People tend to stay longer, and many people never leave. For that reason, we'd love to assist this group of people, in and around Vienna, to be able to modify their homes at an affordable cost, so they can continue to live a rewarding and comfortable life at an advanced age."
With specialized product installation teams and support personnel trained to assist on all fronts, Nova Exteriors, Kitchen & Baths is enthused to assist you and your loved ones in getting the home modifications you need.
About Nova Exteriors, Kitchen & Baths
Nova Exteriors, Kitchen & Baths is the premiere local home remodeling company in the DC Metropolitan area. They provide exterior replacement products, as well as kitchen and bath remodeling, as well as aging-in-place modifications to increase energy efficiency, curb appeal, and safety. Nova Exteriors has done over 10,000 projects in the Washington DC metropolitan area since its inception in 1995. For further information please visit http://www.novaexteriors.com or http://novakitchenandbaths.com or call (703) 651-2002.