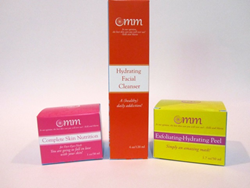 Omm 'Complete Skin Nutrition' is a revolutionary '10 product in 1' formula, addressing every skin concern.
Los Angeles, CA (PRWEB) November 04, 2015
An unprecedented new antiaging skin care brand called "Omm" introduced its first trio of "healthy" skin care products containing 5 gemstone crystals for ultimate skin rejuvenation; Omm moisturizer treatment cream "Complete Skin Nutrition" offers a unique and comprehensive formulation of pure active ingredients delivering "10 products in 1 jar" results.
Made in America, Omm's proprietary holistic formulations utilize nature, science and kinesiology and are loaded with active plant-based ingredients from land to sea. Omm's Revolutionary "Complete Skin Nutrition for Face, Eyes and Neck" includes stem cells, sea vegetables, an immune-boosting Reishi mushroom blend, a powerful punch of 4 of the most effective wrinkle-reducing Peptides, 19 hydrators and humectants, 3 forms of Vitamin C, plant-based Hyaluronic Acid, Rose essential oil, essences from flowers, herbs, trees, fruits, seeds, roots and vegetables, and 5 Gemstone crystals plus pearl (ancient longevity secret).
It is a revolutionary "10 product in 1" formula, addressing every skin concern, including an aggressive reduction of wrinkles, lightening of hyperpigmentation, dark spots and under-eye circles, shrinks pores, evens skin tone, heals acne, reduces redness and scars, treats all skin types/conditions and keeps skin hydrated for up to 72 hours.
Omm's first three products offer a complete skin care regime, including Omm natural "Hydrating Facial Cleanser " which not only deeply cleanses skin but leaves it remarkably soft and hydrated with a refreshing orange scent (1 jar will last 1 year); and Omm natural "Exfoliating-Hydrating Peel" which transforms skin in just 30 minutes, dissolving dead skin build-up with a nourishing honey and seaweed base and powerful papaya, pumpkin and yeast-derived enzymes(1 jar lasts 6 months).
Omm's centerpiece, "Complete Skin Nutrition, " is literally "10 products in 1 jar:"

A Day and Night Moisturizer
An Eye Cream
A Neck Cream
An Age-Defying 5 Peptide Serum
A Potent Vitamin Serum
Stem Cell Serum
A Mineral Serum
A Toner
With 5 Cell Rejuvenating Crystals
A "Superfoods" Serum (Seaweed, Reishi Mushroom, Pearl, Rose oil, green tea, etc.)
"Omm was developed because the products I wanted to use on my own skin and offer to my clients did not exist," explained Omm founder and holistic Esthetician Kelli McGregor. "It was too expensive to buy, and too time-consuming to apply, all of the numerous skin care products needed just to get all of the ingredients I wanted to use on my own skin. Other brands only offer a few active ingredients per product."
Omm skin care features 5 gemstone crystals plus pearl (an Asian "longevity" secret), including Amethyst, Jade, Ruby, Sapphire and Tourmaline. Gemstone crystal minerals emit "far infrared rays" and "negative ions" which promotes cell-growth, detoxification, and cell-regeneration. It also aids blood-circulation which increases oxygen and nutrients to skin. It reverses the aging process by increasing antioxidant production while repairs damaged cells and tissues.
"Everything we put on our skin gets absorbed into our bloodstream within minutes," explains co-founder and Homeopathic practitioner Marta Timm. "It is important that we use ingredients that are pure-sourced, natural and as 'healthy' as possible. Omm is loaded with antioxidants, vitamins and minerals and literally every ingredient skin needs to look and feel radiantly healthy, youthful and beautiful. Each product is given a Reiki energy infusion before orders are shipped to customers. We encourage everyone to visit our website http://www.ommskincare.com and sign-up to receive a 15% discount on first orders."
Founded in 2014, Omm Skin Care, Inc. is a women-owned and operated skin care manufacturing and retail company based in Los Angeles, CA. Skin care products are made from the purest sourced, highest-quality ingredients and are non-toxic, 100% vegan, free of parabens, aluminum, sulfates and are formulated using certified natural and organic ingredients whenever possible. They are not tested on animals. Omm is dedicated to helping transform the world by donating 10% of profits to projects which benefit people, animals and the environment. END
Editors Note: Call for photos or samples