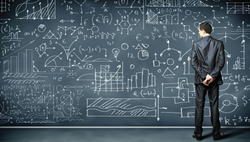 We're excited to launch what will one day be the most popular destination on the internet for data, analytics and business intelligence jobs - Ajay Mistry
Placentia, CA (PRWEB) October 22, 2015
As data becomes increasingly more important to companies of all sizes and across all sectors, so too is the need for data professionals. Data analysts or scientists – those able to spot patterns, draw conclusions and formulate valuable insights from mass amounts of seemingly indecipherable data – are therefore considered to be one of the hottest careers of the future.
A study by McKinsey projects that "by 2018, the U.S. alone may face a 50 percent to 60 percent gap between supply and requisite demand of deep analytic talent."
When the consulting firm Accenture surveyed its clients on their data strategies in April 2014, more than 90 percent said they planned to hire more employees with expertise in data science — most within a year.
The shortage is already being felt across a number of industries - from healthcare and manufacturing to technology and financial - and with predictions that demand for data, analytic, and business intelligence professionals will outweigh the total number available in the market, employers will only find it increasingly difficult to fill their open positions.
After months of planning and development, Hot Data Jobs, Inc., a California-based company, has launched a niche job board targeting professionals in the data, analytics, and business intelligence discipline. The job board, fittingly named Hot Data Jobs (http://www.hotdatajobs.com), was developed primarily to serve as an effective platform for connecting data and analytical professionals with the companies that need them.
Ajay Mistry, founder of Hot Data Jobs states, "Until now, the data industry has been without a dedicated job board. The only solutions available were static job listings on web sites lacking online interactivity between job seekers and employers, or on non-specific behemoth job boards, such as Monster, CareerBuilder or Linkedin, where listings quickly get drowned out by all the other postings." "Hot Data Jobs aims to fill that void", Mistry says.
Hot Data Jobs uses a number of methods to attract targeted visitors to its website, some of which include advertising heavily on social networks such as Linkedin, Facebook, and Twitter, maintaining a blog with articles relevant to the data, business intelligence and analytics industry, and cross-posting each job to dozens of partner sites. Right now the site only accepts jobs that are in the United States but hopes to expand to other countries in the near future. "We're excited to launch what will one day be the most popular destination on the internet for data, analytics and business intelligence jobs," says Mistry.