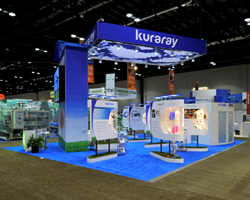 Over the last fifteen years, we've opened four new offices across the globe. I think that is a testament to the work ethic of the employees at this company. - Todd Koren
(PRWEB) November 04, 2015
Absolute Exhibits, a custom exhibit house who provides trade show services for businesses around the world, celebrated their 15-year anniversary earlier this year. In those 15 years, the company has grown from its humble beginnings as a family business to a now 90-person operation with offices across the globe. They now service shows all across the world from America to Australia, as well as Canada, the United Kingdom, Germany, Italy, South Korea, and Dubai.
The company got its start in 2000 when the Koren family decided to leverage their many years in the home furniture business to transition into the trade show industry. Absolute Exhibits were able to make a swift transition and shortly after in 2002, they launched their portable and modular division, Displays & Exhibits. As the years went on, the Korens opened multiple branches across the globe starting with Las Vegas in 2004, Germany in 2005, Orlando in 2012, and most recently, Romania in 2013.
"Over the last fifteen years, we've opened four new offices across the globe. I think that is a testament to the work ethic of the employees at this company", said CEO Todd Koren. "We've been through a lot in the last decade and a half. We managed to survive the worst economic crisis that our country has seen in over a century and we've only grown stronger since." Earlier this year, Absolute Exhibits was included in the Inc. 5000 list of America's Fastest Growing Private Companies.
About Absolute Exhibits:
A leading exhibition firm, Absolute Exhibits provides clients with turnkey solutions for designing and fabricating exhibits while managing the entire trade show experience as a one-source trade show and convention exhibit resource. Established in 2000, with locations in Southern California, Las Vegas, Orlando, and Bucharest, Romania, Absolute Exhibits rents and sells custom and system exhibits at over 300 shows in the USA and in countries around the world.