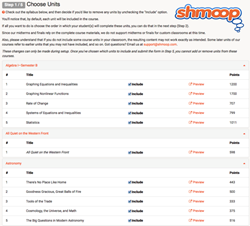 Each teacher puts their own spin on material, and we are thrilled to be able to give educators the flexibility to do their own thing.
Mountain View, California (PRWEB) October 22, 2015
With Shmoop's new customizable course option, teachers are no longer subject to the whims of online course providers. Now they can create the course that works best for their students. J.K. Rowling might not be thrilled if fans decided the Harry Potter books were better read in reverse order. But Shmoop (http://www.shmoop.com), a digital publisher known for its award-winning Test Prep and certified Online Courses, is all about mixing things up. Users with a Shmoop subscription or license can now mix and match any of Shmoop's course content to fit their needs, whether those needs lean more toward Hufflepuff or Dark Lord. No one's judging.
Shmoop still provides the teen-friendly content—over 200 courses ranging from short units on Photoshop to year-long core courses in ELA, math, and history—but educators can now take it apart and put it back together again however they'd like.
First, they'll pick which courses, and which units within those courses, they want to include in a custom course. So if a teacher wants to follow a unit on multi-variable calculus with one on The Grapes of Wrath...well, that's weird, but they can do it. More likely, they'll pick and choose units from various courses that help them hit their interdisciplinary goals, like pairing the Civil War unit from U.S. History with the unit on Incidents in the Life of a Slave Girl from American Literature. Math teachers can even pick and choose from Shmoop's Geometry, Algebra, and Pre-Calculus courses to create their own, customized Integrated Math course.
If teachers come across a unit they just can't stand (hey, some people have it out for logarithmic functions), they can simply remove it. Of course, if they're not sure, they can always preview the content first to be certain that the material they're using is what they want. Because how awkward would it be if a teacher thought they were including a unit on The Constitution of the U.S.A. and ended up getting one on "Born in the U.S.A"? And yes, Shmoop offers both.
Next up, teachers can reorder the units within their newly created course. If they love Shmoop's Art History course but want to get to postmodernism earlier in the year, they can drag 'n' drop to their heart's content. Other things teachers can customize? Due dates, standards, and other power-trippy options like requiring a student to complete a lesson before moving on.
"We strive to create the most cohesive courses possible," says Ellen Siminoff, president and CEO of Shmoop. "But we also understand that each teacher puts their own spin on material, and we are thrilled to be able to give educators the flexibility to do their own thing."
Shmoop's customizable course content is available to any individual user on a Shmoop subscription, and if teachers want to spread the love, they can contact sales(at)shmoop(dot)com for bulk discounts for their school or district.
About Shmoop
Shmoop offers hundreds of thousands of pages of original content. Their Online Courses, Test Prep, Teaching Guides, Learning Guides, and interactive Study Tools are written by teachers and experts and balance a teen-friendly, approachable style with academically rigorous concepts. Shmoop sees 11 million unique visitors a month across desktop and mobile. The company has won numerous awards from EdTech Digest, Tech & Learning, and the Association of Educational Publishers. Launched in 2008, Shmoop makes the magic happen from a labradoodle-patrolled office in Mountain View, California.