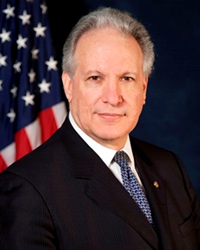 Administrator Rosekind will speak at Government/Industry's opening and awards ceremony on Jan. 20, at 9 a.m.
(PRWEB) October 22, 2015
National Highway Traffic Safety Administration (NHTSA) Administrator Mark R. Rosekind will deliver the opening address at the SAE 2016 Government/Industry Conference, Jan. 20-22, at the Walter E. Washington Convention Center in Washington, D.C.
Administrator Rosekind will speak at Government/Industry's opening and awards ceremony on Jan. 20, at 9 a.m.
Administrator Rosekind was sworn in as NHTSA administrator on Dec. 22, 2014. He is a passionate safety professional dedicated to enhancing transportation safety for the traveling public. Before becoming NHTSA's administrator, he served on the National Transportation Safety Board (NTSB). He was the on-scene board member for seven major transportation accidents and participated in numerous NTSB public events on diverse safety topics.
Administrator Rosekind is an internationally recognized expert on human fatigue, credited with leading the field in innovative research and implementing programs in all modes of transportation. His work has been widely published, and his awards include NASA's Exceptional Service Medal and six other NASA group/team awards; the Mark O. Hatfield Award for Public Policy from the American Academy of Sleep Medicine; two Flight Safety Foundation honors: the President's Citation for Outstanding Safety Leadership and the Business Aviation Meritorious Service Award; and Fellow of the World Economic Forum in Davos, Switzerland.
For more information on the SAE 2016 Government/Industry Meeting, visit http://www.sae.org/events/gim/. To request press credentials, email pr(at)sae(dot)org or call 1-724-772-8522.
SAE International is a global association committed to being the ultimate knowledge source for the engineering profession. By uniting over 145,000 engineers and technical experts, we drive knowledge and expertise across a broad spectrum of industries. We act on two priorities: encouraging a lifetime of learning for mobility engineering professionals and setting the standards for industry engineering. We strive for a better world through the work of our philanthropic SAE Foundation, including programs like A World in Motion® and the Collegiate Design Series™.