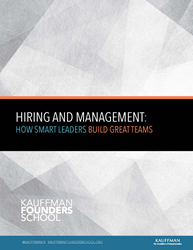 Kansas City, Mo. (PRWEB) October 22, 2015
In Hiring and Management: How Smart Leaders Build Great Teams, a free eBook from Kauffman Founders School, experienced entrepreneurs provide simple hiring and management tips that can help startups build a productive and engaged workforce.
Hiring is tricky for early-stage companies. Each new employee can significantly impact the organization's operating budget, portfolio of skills and corporate culture. What's more, many entrepreneurs have no training in recruitment and management nor the budget to outsource these critical tasks.
This new eBook features seven successful entrepreneurs whose relatable, real-life examples illustrate how good and bad hiring decisions affected their early operations. They also discuss proven strategies for selecting the best candidate from the applicant pool, the importance of cultural fit and how to shape a team for long-term success.
This is the third eBook in the ongoing Kauffman Founders School eBook series. Hiring and Management: How Smart Leaders Build Great Teams is available for free download here.
About Kauffman Founders School
Kauffman Founders School taps the potential of online education, presenting a robust curriculum from which entrepreneurs can learn anywhere, anytime. Subject experts present lectures that are embedded in modules designed to give founders a rich learning experience, engaging them in lessons that will make a difference in what they do in their business today, tomorrow and in the future. Learn more at KauffmanFoundersSchool.org.
About the Kauffman Foundation
The Ewing Marion Kauffman Foundation is a private, nonpartisan foundation that aims to foster economic independence by advancing educational achievement and entrepreneurial success. Founded by late entrepreneur and philanthropist Ewing Marion Kauffman, the Foundation is based in Kansas City, Mo., and has approximately $2 billion in assets. For more information, visit http://www.kauffman.org.