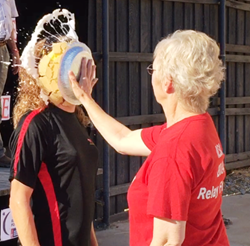 We all have a family member or friend that cancer has struck; it's not a pretty scene.
Groesbeck, TX (PRWEB) October 29, 2015
Relay For Life is a six hour event where community members can participate in the fight against cancer. The Relay is held near a public track where team members can take turns walking the track to honor those who have or are battling cancer. During the event, teams host various activities such as entertainment, games and food sales. The entire community is encouraged to enjoy the activities and show support for the participating teams. Relay For Life is the largest fundraising event in the world, according to the American Cancer Society.
Each year, differents ILSA departments host events such as bake sales, ice cream socials, homemade lunch sales, and candy sales. These functions occurred on "Thunder Thigh Thursdays." ILSA also hosts an annual Garage Sale, selling items donated by employees. By far, the most popular - and profitable - event held by ILSA is the Annual Pie in the Face - affectionately dubbed "Piemageddon." This year's event, held on October 15, 2015, broke all previous records.
How it works: ILSA employees nominate fellow employees to get a pie in the face by purchasing votes, 1 vote for $1, or 6 votes for $5. The voting gets pretty heated for the month leading up to Pie Day. Alliances are formed, deals are struck, and victims are chosen with excited glee. The top five nominees receive one pie in the face for every 100 votes received. On Pie Day, the top five nominees are introduced, one at a time, and the pies are then auctioned off to the highest bidder. For a price, anyone can win the right to deliver a pie. $1,218 was raised on the voting process, this year!
Limestone County Sheriff, Dennis Wilson, was asked to be ILSA's Guest Pie Auctioneer, on October 15, 2015. During his duties, he took a moment to reminded us all of the importance of the event by stating, "We all have a family member or friend that cancer has struck; it's not a pretty scene."
With Sheriff Wilson's help, ILSA raised $565 in pie sales. The top five victims were Brandi Getz, who with over 500 votes, got five pies; Joyce King and Rabecca Garcia, who received over 200 votes each, got two pies each; Brian Allen and Andrea Shields, received one pie, each. Another $120 was raised with the sale of Retaliation Pies. Adding in the money from the votes, the total raised from the 2015 Pie in the Face Event was $1,883; this accounted for over 31% of the total funds raised by ILSA all year.
On Saturday, October 24, 2015, Team ILSA, captained by Joyce King, Brandi Getz, and Candice McGruder, participated in the Limestone County Relay for Life held at Mexia Junior High School, in Mexia Texas. ILSA sponsored a Pumpkin Patch where, for a $5 donation, children could select and decorate their own mini pumpkin to take home. ILSA's goal for the year was $4000; they exceeded that goal by 50%, turning in just over $6000 to Relay For Life, for 2015. ILSA is proud of the employees, and their family members, who worked diligently to make this year's Relay For Life campaign a huge success.
About ILSA:
Insurance Licensing Services of America is a complete insurance licensing and compliance service provider offering over 50 services including: licensing, license renewals, CE tracking, surplus lines reporting & tax filings, and Secretary of State filings. ILSA was founded in 1997 by Ted and Arleen Taveras who saw a clear need for a centralized licensing and compliance solution for agents and agencies struggling to navigate the complex regulatory environment. For more information, visit their corporate website at: http://www.ilsainc.com.