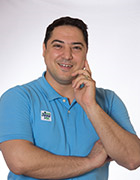 Plano, TX (PRWEB) October 21, 2015
Patients in need of treatment of gum disease, tooth decay or lesion removal are invited to visit Dr. Reza Naderi's new dental office for laser dentistry procedures. Dr. Naderi is a general dentist in Plano, TX and recently became certified in the BIOLASE WaterLase iPlus 2.0™. The specialized system is meant specifically for use in a variety of dental tissues and procedures. In addition, last month, Dr. Naderi opened the doors to his new dental office in Plano, and welcomes those looking for the latest in dental care.
The BIOLASE WaterLase iPlus 2.0™is designed to make going to the dentist in Plano, TX, something that patients no longer need to fear. The laser surpasses the high speed drill in efficiency and can eliminate the need for anesthetic in most instances. This means that patients do not have to deal with as much discomfort and pain as if they were undergoing a procedure with a regular drill. With less need for anesthetic, procedures and visits do not take as much out of patients' days, so they can focus on other important matters in their lives.
The sound of the dental drill is something that many patients struggle to handle. These patients may experience deep levels of anxiety whenever they hear this sound, and thus forgo receiving necessary treatment. As a dentist in Plano, TX, Dr. Naderi knows that this is a real struggle for many individuals and has chosen to use a laser in part to allow these people to finally receive the treatment they need. The added benefits of using the laser, such as minimized swelling and bleeding following gum treatments, are simply added bonuses for these patients.
Those who would like to experience this new technology and all of the advantages it offers are invited to schedule an appointment with Dr. Naderi by contacting his office. He is happy to provide exceptional treatment to each of his patients, no matter their dental needs.
About the Doctor
Dr. Reza Naderi is a general dentist offering personalized dental care to patients in Plano, TX. Dr. Naderi offers advanced laser, preventative and family dentistry. To learn more about Dr. Naderi visit his website at http://www.marveldentist.com or call (469) 573-3664 to schedule an appointment.