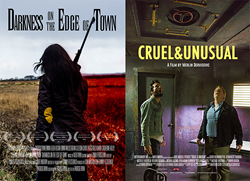 "Darkness on the Edge of Town" and "Cruel & Unusual" are two of the most thrilling films I've seen and two of our finest releases to date. They'll make a great addition to your Halloween movie-watching list! -Jason Ward, Candy Factory Films
New York, NY (PRWEB) October 23, 2015
Filmmakers Merlin Dervisevic & Patrick Ryan deliver their first feature films with award winners "Cruel & Unusual" and "Darkness on the Edge of Town," two dark narratives with stunning casts and visuals. "Cruel and Unusual" puts us in the shoes of a man stuck in an institution forced to relive the murder of his wife over and over again. "Darkness on the Edge of Town" depicts the twisted friendship of two teen girls (Cleo & Robin) on a bloody quest for revenge as they hunt for a murderer, but little does Cleo know that Robin holds a dark secret.
In "Cruel & Unusual," a man and his wife die in each others' arms. Husband, Edgar (DAVID RICHMOND-PECK "Pacific Rim"), finds himself condemned to a special place in hell, blamed for her murder – a fact he refuses to accept. His punishment is to eternally re-live that last dreadful day. Learning that his only escape is through enlightenment, he enlists the help of fellow inmates and devises a plan to end this horrific cycle.
"Darkness on the Edge of Town," set in Ireland's bleak rural South, introduces troubled teenage sharpshooter Cleo Callahan (EMMA ELIZA REGAN "Get Up and Go") seeking to avenge the death of her sister who was found brutally stabbed to death. Blinded by rage, Cleo is unaware that her best and only friend, Robin O'Riley (EMMA WILLIS "The Christening"), is the murderer she's sworn to kill. As Robin's damaged brother Virgil (BRIAN GLEESON "Snow White and the Huntsman") also draws closer to the truth, the three become tragically entangled, leading to an inevitable bloody showdown.
View "Cruel & Unusual" Trailer here.
View "Darkness on the Edge of Town" Trailer here.
Screeners for both films are available for review.
Filmmakers and cast are available for interviews.
About Candy Factory Films
Candy Factory Films is dedicated to producing and distributing high impact films and fostering communities around independent cinema. Candy Factory Films is a filmmaker-friendly multimedia distribution and production company committed to keeping with the best interests of our clients. We embrace emerging distribution and social media trends to successfully promote films and incentivize project-specific audiences. We promise individualized services and customized experiences to increase overall exposure. We pride ourselves on our inventive methods for filmmaking success. Connect with Candy Factory Films and @CandyFactory411.