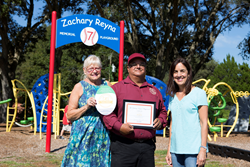 This playground represents the commitment this community has made to supporting its youth and families.
LaBelle, Florida (PRWEB) October 29, 2015
In this small community of less than 4,500 residents, it is surprising to see a large playground structure surrounded by towering oak trees, aesthetically arranged native plantings, and outdoor fitness equipment strategically placed for optimum supervision. These types of community projects are more typically found in larger cities and communities where tax dollars for park and recreation projects are more abundant and readily available.
"At the conception of this playground project, we recognized that the funding would not be coming from local revenue," said Ramiro Rodriguez, Hendry LaBelle Recreation Director. "I realized that I would need to put a board together that would be deeply connected in the community, and able to use their considerable influence to secure 100% in donor funding." Mr. Rodriguez's team did not let him down. In fact, one of the largest donors doesn't even live in the local community.
Elizabeth Bumgarner lives over 13 miles away in Alva, in neighboring Lee County. When asked why she donated such a significant amount of funding for this project, she simply stated, "I wanted children to have a safe place to play, and I believe in paying it forward."
Ms. Bumgarner and Mr. Rodriguez were on hand to receive the National Demonstration Site Award for Play On!, which designates a community's commitment to physical activity on the playground. The Play On! Program combines playground activities with six key elements of play to promote overall fitness: balancing, brachiating (bilateral upper body activities), climbing, sliding, swinging and spinning. As a National Demonstration Site, the site will receive certification, become a part of a national registry, and is promoted actively to inspire other communities to promote physical activity and share best practices. Michele Chandler, Director of Marketing for Play & Park Structures presented the award. "We are so pleased to see a small community place such a large emphasis on the physical well being of its youngest constituents. This playground represents the commitment this community has made to supporting its youth and families."
On hand to demonstrate the physical activity focus of this Play & Park Structures playground were the first and third grade students from nearby LaBelle Elementary School. As the youngsters climbed across cables, soared on swings, hung from overhead loops, and spun on a merry-go-round, the adults nearby enjoyed comfortable seating under shady oak trees, intentionally positioned for that very purpose. Mr. Rodriguez added "We heard from parents that they love taking their kids to the playground, but under the strong Florida sun they often found themselves overheated and ready to go home. With the shade provided by the trees and the stream behind the site, they are more comfortable to linger as they supervise their children."
The Zach Reyna Memorial Playground is located at the Community Civic Park at 800 Jaycee Lions Drive, just behind LaBelle Elementary School.
About Play & Park Structures, a PlayCore Company - Since 1976, Play & Park Structure's mission has centered around developing products, programs, and services that enhance classroom learning, create environmental awareness, promote physical activity, and build communities.