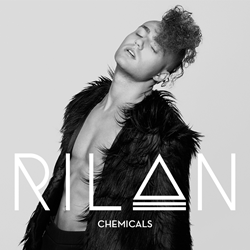 "Rilan is a modern day David Bowie mixed with classic Superstardom elements for the present!"- Dallas Austin
Los Angeles, CA (PRWEB) October 22, 2015
"Rilan is a modern day David Bowie mixed with classic Superstardom elements for the present!"- Dallas Austin
Electro-pop artist RILAN is set to release his debut EP, CHEMICALS on Friday, November 13th. The pre-sale will be available on October 30th and will include an instant download of the first track, "Abandon My Angels". The New Orleans native teamed up with multi-platinum Producer Dallas Austin (Madonna, Lady Gaga, TLC) along with Naz Tokio and Cory Enemy for production on the release. The EP is the follow up to Rilan's independent success which includes over 2.2 million views on YouTube of the music video for his song "Chemical" and his role as a Warbler on the last season of Fox's hit show, GLEE.
Known for working with megastars and writing some of the biggest hits in pop music history, Dallas Austin has also been instrumental in recognizing new talent and ushering them to the forefront of stardom. In addition to working in the studio together, Rilan has performed at the Sayer's Club in Los Angeles as part of the 'Dallas Austin Presents' series and did the same in London on October 21st at the newly opened TAPE LONDON. While Rilan is overseas he will also be performing at London's Black Dice underground cocktail club and at "La Machine du Moulin Rouge" in Paris. He will return to the US in time for his show at The Roxy in Los Angeles on November 6th with BLVD and Mansions on the Moon.
Rilan has been considered a male version of Lady Gaga and has been repeatedly compared to classic David Bowie, but it's not only his music that draws these comparisons. Every visual, including photos, videos, wardrobe and choreography, are all a part of Rilan's ability to seamlessly marry decades of pop culture influences with an added flare of avant-garde.
In an era of anti-bullying messages, Rilan is a prime example of someone who has risen above negativity, never downplaying the traits that make him unique, yet embracing them and encouraging others to do the same. The message is strewn throughout his music and is a direct result of his influences, "I am a huge fan of 70s glam rock and 80's synth pop… my heroes are Freddy Mercury, David Bowie, Adam Ant and Prince. All of these people who were unapologetically themselves, who had voices and personalities bigger than life itself, who weren't afraid to wear some spandex and glitter and paint their face with crazy colors and be called names because they just knew who they were… they inspired generations of people to just go balls to the wall and be what they wanted to be."
Every Thursday leading up to the November 13th CHEMICALS EP release, Rilan will be releasing a video on http://www.youtube.com/iamrilan as part of the "I Am Rilan" video series:
Oct 15- I Am Rebel https://youtu.be/-foqkUZ50cI
Oct 22- I Am Idealist
Oct 29- I Am Lover
Nov 6- I Am Alchemist
Nov 12- I Am Necromancer
CHEMICALS Track Listing:
1. Abandon My Angels
2. Hotel
3. Crash in the Wreckage
4. I Will Never Change
5. Chemical