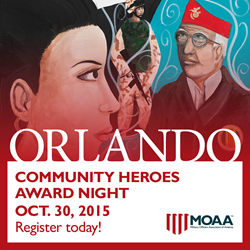 We are privileged to recognize some of the outstanding members of the Central Florida region who devote their time and energy to provide exceptional service and support to the wounded military and veterans' communities.
Alexandria, Va. (PRWEB) October 22, 2015
Military Officers Association of America's (MOAA) fifth annual Community Heroes Award Night will be held Friday, Oct. 30 from 6:30 p.m. to 9 p.m. at the Buena Vista Palace Hotel, Lake Buena Vista. The event is part of MOAA's annual meeting. Gen. Dennis L. Via, commanding general, U.S. Army Materiel Command, will be the keynote speaker, and Bonnie Carroll, executive director of the Tragedy Assistance Program for Survivors, will receive the MOAA Military Family National Service Award.
The ceremony will recognize three individuals and four groups from the central Florida region who exemplify service to the wounded military and veterans' populations. Lee Woodruff, CBS This Morning contributor and New York Times best-selling author, is the master of ceremonies.
Carroll is the second recipient of the MOAA Military Family National Service Award. The award, presented by the MOAA Military Family Initiative, is given annually and recognizes an individual or organization that has consistently demonstrated extraordinary commitment to the sustained health, vitality and financial security of America's uniformed service families.
"We are privileged to recognize some of the outstanding members of the Central Florida region who devote their time and energy to provide exceptional service and support to the wounded military and veterans' communities," said MOAA President retired Navy Vice Adm. Norb Ryan. "I would like to thank Express Scripts, our executive sponsor, and Fleet Landing, a silver sponsor," he added.
Approximately 500 attendees will be at the event, including the award winners and their colleagues and families and representatives of MOAA board of directors, staff and membership.
This year, the award emphasizes recognition of caregivers. The intent is to demonstrate a continuum of caregiving existing across a broad spectrum of individuals, both within the military base and civilian communities. People "give care" in unique and diverse ways.
The award winners are
Group Recipients

Canine Companions for Independence (CCI) is dedicated to helping people with disabilities and is recognized by the Department of Veteran Affairs as an accredited assistance-dog provider. In 2007, CCI started the Wounded Veterans Initiative, which is aimed at helping injured veterans. CCI has partnered a U.S. Air Force veteran with a hearing dog and the daughter of a servicemember with a skilled companion dog. Currently, 110 military graduates are partnered with assistance dogs, and CCI remains dedicated to helping those with disabilities.
MOAA Recognizes Caregivers of the Central Florida RegionFish With a Hero brings combat-wounded veterans together with Florida Keys charter captains for two days of fishing in the beautiful Florida Keys. The event is a part of a yearlong therapeutic program delivered to veterans by Project Healing Waters, a national 501(c)(3) organization. In 2014, 33 wounded veterans and 10 volunteers participated in the event.
Operation Helping Hand was started in 2004 by retired Navy Capt. Bob Silah with a mission to support wounded and injured active duty servicemembers and veterans as well as their families. Operation Helping Hand provides support in a myriad ways, including hosting monthly dinners for wounded/injured patients and their families at the James A. Haley Veterans' Hospital in Tampa, Fla.
The Wounded Warriors of South Florida was formed by a group of Marines in 2009 to help veterans who have served since 9/11. The group's mission is to provide temporary, immediate financial assistance to veterans with service-connected disabilities who have served in the wars and conflicts since 9/11. Financial assistance includes rent/mortgage, utilities, loan payments, insurance, emergency bills and more. In the past year alone, the Wounded Warriors of South Florida received over $697,000 in donations and was able to assist nearly 1,500 veterans.
Individual Recipients
Retired Army Lt. Col. Carol Barkalow and her spouse, Sheila Mutascio, started Heaven on Earth for Veterans in 2011, and, in 2013, it became a nonprofit organization. Under Barkalow's leadership, the organization purchased houses and fully furnished them for homeless veterans in Pinellas County, Fla. Veterans lease private bedrooms for $400 to $600 a month, including all utilities and cable and Internet in the common areas, which are shared by all residents. Currently, Heaven on Earth for Veterans has 24 veterans in eight houses, and the organization has helped 80 homeless veterans, some of which have gone on to apartments and need no further assistance.
Roy Foster started the nonprofit Faith*Hope*Love*Charity Inc. (FHLC) in 1994 to make a difference in the lives of the nation's veterans. The operational success of FHLC and the recognized needs of at-risk veterans subsequently inspired the creation of Stand Down House in May 2000. It provides supportive services for veterans besieged with emergency/transitional housing, PTSD, traumatic brain injuries, mental health issues, addictions and physical limitations. More than 2000 veterans have received supportive services since the opening of Stand Down House.
Sandi Scannelli, president and CEO of Community Foundation for Brevard, has been a cosponsor, coordinator and leader of the Brevard County Community Blueprint initiative since 2013. Since the beginning of the initiative, she established procedures for the project that included organizing monthly meetings for agencies that serve veterans to learn about each other and share news of upcoming events. Scannelli helped to create a Military and Veteran Psychology Certificate Program to assist mental health professionals with their continuing education requirements and meet the need for better trained professionals who work with unique needs of the servicemember and their families. The program launched in the spring of 2015.
Award recipients will receive a signed and numbered print of "Peace Through Peers," an original by artist by M.B. Dallocchio.
Read bios on each of the Community Heroes Award recipients online. For contact information on awardees for media interviews, please email pr@moaa.org or call (703) 838-0545 or 0546.
-End-
About MOAA:
Military Officers Association of America (MOAA) is the nation's largest and most influential association of military officers. With more than 380,000 members — active duty, former, retired, and National Guard and Reserve officers from all seven uniformed services and their spouses and surviving spouses — it is a powerful force speaking for a strong national defense and represents the interests of military officers and their families at every stage of their careers. For those who are not eligible to join MOAA, Voices for America's Troops is a nonprofit MOAA affiliate that supports a strong national defense. For more information, visit http://www.moaa.org.
MOAA Facebook: https://www.facebook.com/moaa
MOAA Twitter: twitter.com/MilitaryOfficer
Voices: http://www.voicesfortroops.org/