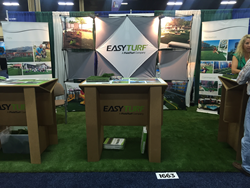 The GIE Expo has proven to be a lively and productive marketplace.
Louisville, Kentucky (PRWEB) October 21, 2015
EasyTurf will be exhibiting at this year's GIE (Green Industry and Equipment) Expo, held at the Kentucky Exposition Center from October 21st through 23rd.
The GIE Expo will be taking place in tandem with the Hardscape North American tradeshow. The shared space will allow attendees to enjoy both events simultaneously. The GIE Expo will feature a 19-acre demonstration area and is expected to include 750 exhibits and draw 18,000 participants.
The Hardscape North American Expo is the only national trade show devoted entirely to the hardscape industry. In addition to exhibits, the event will feature a new product showcase, seminars, certifications, and networking opportunities.
"It's exciting to be partaking in such a massive industry event," said Shannon Zimmerman, Director of Marketing for EasyTurf. "The GIE Expo has proven to be a lively and productive marketplace. This year, in addition to exhibiting, we are attending the Virtualrain Marketing Convention happening prior to the Expo."
Virtualrain is a marketing and buying group for the green industry. The group describes its mission as "To help independent distributors be successful in all aspects of their businesses through valuable networking, national marketing initiatives, and strategic partnerships with leading suppliers."
The Virtualrain convention is being hosted by Wolf Creek Company, a landscape distributor based in Louisville specializing in landscape and turf systems. In addition to being a Virtualrain member, Wolf Creek Company is an EasyTurf distributor.
The EasyTurf booth at GIE will feature the brand's bestselling turf as well as products such as Go Mats and Grab and Go. Go Mat is a new product versatile enough for use in various applications. Portable Go Mats feature a bound edge and are lightweight enough to take anywhere, including the park, beach, and to sporting events. Grab and Go was designed for use in small-scale improvement projects such as kennels, dog runs, and lawns. Both products can be viewed at Booth #3173.
For more information regarding the GIE Expo, please visit http://gie-expo.com/gieexpo
About EasyTurf®
EasyTurf, a FieldTurf® company, provides environmentally friendly residential and commercial lawns, recreational fields, playgrounds, putting greens, and conservation plans for communities throughout North America. The state-of-the-art turf offers realism, drainage, and durability for both residential and commercial applications. EasyTurf is based in Vista, Calif. (northern San Diego County). More information is available at http://www.easyturf.com or by calling (866) 352-0233.