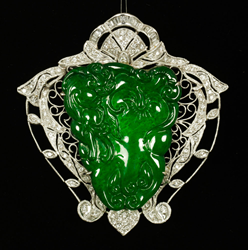 Beverly, Massachusetts (PRWEB) October 24, 2015
The first Fine Asian Antique sale on the fall calendar for Kaminski Auctions takes place November 8th starting at 10:00 am and features a fine selection of important Chinese jade, porcelain and textiles, as well as Islamic and Indian items.
A Chinese finely carved Jadeite pendant with diamond encrusted filigree work and diamond baguettes, a total carat weight of 101.01 carats is the top valued lot of the sale estimated at $15,00-$25,000. The piece includes a certified laboratory identification report from Hong Kong Gems Laboratory. Similarly an eighteen carat white gold, diamond circled jade pendant is valued at $12,000-$15,000, and a twenty two carat yellow gold and green jadeite necklace with 12 cabochon jade pieces is estimated at $5,000-$10,000 both bearing a Hong Kong Gems laboratory certificate.
Apart from jewelry, jade items of interest in the sale include a carved white jade pendant, consisting of two parts connected and suspended by a gilt chain embellished with bats. The top jade pendant is in the shape of a stylized dragon, the lower jade pendant is huang shaped, and both are housed in a hardwood frame carved in a cloud shape with two flanking Shou characters at the base. Standing twelve and a half inches in height this unusual piece is valued at $1,000-$2,000.
Chinese cloisonné of importance includes a twenty-four and a half inch high Chinese cloisonné bottle vase decorated with multicolored dragons on a wave pattern background. Having a gilt rim and carved Qing Qianlong mark on the base with a carved wood stand it is valued at $2,000-$3,000. There is also a thirty-four inch high Chinese cloisonné table screen depicting a colorful mountain scene with two figures, and a poem in the upper left corner displayed in a carved wood stand at the same value.
Chinese porcelain on offer features an 18th century blue glazed Zun vase, with a rectangular rim and foot, and carved elephant head handles with rings. The lower body is carved with a peony pattern and the Zun vase bears the Qing Qianlong mark on the base and is valued at $2,000-$3,000. A light blue glazed porcelain Chinese moon vase, in the shape of a flower, with carved stylized foo dog handles, bearing the Yongzheng mark on the base is also valued at $2,000-$3,000.
Another star lot is a Ming Dynasty or later Chinese celadon porcelain censer carved with a large flower pattern and rectangular handles with three foo lion shaped legs estimated at $2,000-$3,000.
Lot # 9151 is a spectacular 18th century Chinese huanghuali wood table. The apron is heavily carved with dragons and clouds, and "ghost faces" appear in the surface wood. It measures 33" high by 79" wide by 38 1/2" deep and is edged in a carved Greek key pattern. It is estimated at $3,000-$5,000.
Textiles play an important role in the sale with several monumental Chinese needlepoint tapestries on offer, embroidered with metallic thread and decorated with peacocks and flowers, as well as a lot of 16th-18th century Persian embroidered silk panels. Other Islamic items in the sale include Persian tiles and ancient bowls with calligraphy.
Preview for this sale is Thursday through Saturday, November 5th-7th 10:00am-5:00pm and November 8th, starting at 8:00am at the Kaminski Auctions gallery at 117 Elliott Street, RT.62, Beverly, Massachusetts. For more information go to http://www.kaminskiauctions.com and sign up to bid online with KaminskiLIVE.