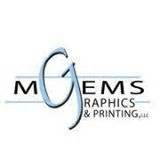 For the Best One on One Customer Care Out There!
(PRWEB) October 28, 2015
For the past 25 years, MGemsGraphics has been helping local businesses not only survive, but thrive within this economy. On top of being able to help with your printing, marketing, and designing needs, MgemsGraphics will be offering a brand new variety of services this upcoming holiday season and has expanded to brand new areas along the east coast!
MGemsGraphics has transformed into the ultimate, "one-stop shop" where business owners can come for the vast amount of designing, printing, marketing, mailing, and delivery services that could ever be needed to help your business take off. The MGemsGraphics team has now offering full service Every Door Direct Mail and has a team of specialists ready to help with social media, marketing, design of your mailer, any printing needs, business cards and brochures available in full color, mailing preparation and delivery, postage paperwork, and bundling for a low all-inclusive price.
Also added to MGemsGraphics is the ability to design, print, and deliver apparel with a personally made logo that caters to your business. A wide variety of apparel is now offered including t-shirts, magnets, and bumper stickers. All can be designed online at our website at Mgemsgraphics.net with the easy-to-use tool to design exactly what you are looking for.
MGemsGraphics and their services are already available in New York, New Jersey, Pennsylvania, Virginia. The company continues to expand as services have been made newly available in North Carolina and will be coming soon to Georgia.
Visit MGemsGraphic.net now or call 732-422-0815 to speak with a specialist and take the first step on your road to success.