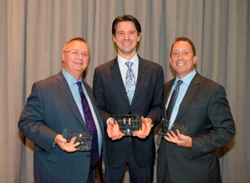 I'm glad that we could set the record straight and obtain justice for the McDaniel family
Chicago, IL (PRWEB) October 28, 2015
Chicago personal injury lawyers Patrick A. Salvi II and Jeffrey J. Kroll received a Jury Verdict Reporter award for Trial Lawyer Excellence on October 21, 2015 in recognition of their work in securing the highest jury verdict in Pope County, Illinois history. Mr. Salvi and Mr. Kroll, along with Mark D. Prince of the Prince Law Firm, secured a $1.2 million verdict on June 27, 2014 on behalf of a boy who was struck and killed by an ambulance. (CALVIN MCDANIEL, as Administrator of the Estate of BRETT MCDANIEL, Deceased, Plaintiff, v. MERCY REGIONAL EMERGENCY MEDICAL SYSTEM, L.L.C., a Kentucky Limited Liability Company; and JAMES RATTA, Individually, Defendants. Circuit Court of the First Judicial Circuit, Pope County, Illinois in Golconda, IL, Case No. 08 L3.)
According to court documents, thirteen-year-old Brett McDaniel was riding his bike in 2007 in Golconda, Illinois, when he was struck by an ambulance owned by Mercy Regional Medical System LLC and driven by one of Mercy's employees. Brett approached a three-way intersection facing a stop sign but did not stop before making a right turn and was struck by the ambulance traveling above the posted speed limit in the other direction and across the center line. Following a two-week trial before Circuit Judge Joseph M. Leberman, the jury awarded net damages of $2 million but reduced it by 40% to $1.2 million for contributory negligence.
According to the Pope County Clerk, at the time of the trial, the highest verdict in the county dated a decade ago, when the jury awarded $50,000.
On October 21, 2015, The 6th Annual JVR Awards for Trial Lawyer Excellence were hosted by the Jury Verdict Reporter, a division of the Law Bulletin Publishing Company. More than 250 trial attorneys and judges were in attendance for the reception and awards ceremony at the Harold Washington Library in downtown Chicago. The program recognized superior outcomes and record verdicts achieved by individuals and teams of trial lawyers from both the plaintiff and defense bars.
"We are grateful for this honor," said Patrick Salvi II. "Local police records of Brett's accident did not reflect an in-depth investigation of what happened. I'm glad that we could set the record straight and obtain justice for the McDaniel family. Just because this happened in a small town, doesn't mean the loss of a life should be worth any less than if it happened in a big city."
This is the third time lawyers from the firm received a Jury Verdict Reporter award for trial lawyer excellence. Additional awards were secured in 2011 and 2012.
About Salvi, Schostok & Pritchard P.C.
Salvi, Schostok & Pritchard P.C. is a leading Chicago personal injury firm with offices in Chicago (22 West Washington Street, Suite 1600, Chicago IL 60602) and Waukegan (218 North Martin Luther King Jr. Avenue, Waukegan, IL 60085). In addition to representing clients in catastrophic personal injury, medical malpractice, aviation and product liability cases, the firm focuses on car and truck accidents, airplane and train accidents, construction injuries, birth injuries, brain injuries, unsafe properties and animal attacks. The firm has obtained more than $975 million on behalf of its clients in personal injury and wrongful death cases, including 210 verdicts and settlements of $1 million or more.