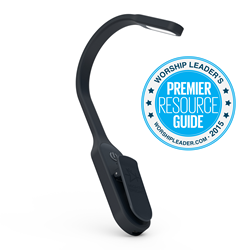 Santa Barbara, CA (PRWEB) November 05, 2015
Mighty Bright, designer and manufacturer of personal LED lighting products, is pleased to announce the Recharge LED Light has been selected as an editor's pick for the annual 2015 Worship Leader Magazine Best of the Best Awards in the Lights and Lamps category. Worship Leader's prestigious Best of the Best Awards are bestowed on the top picks in music, software, books, and worship resources. The Recharge LED Light is featured in the magazine's Premier Resource Guide, which is included in the November/December issue of Worship Leader Magazine.
"We are honored the Recharge has won a Best of the Best award," said Michelle Haas, Mighty Bright Marketing Manager. "Worship Leader's award celebrates the Recharge's industry-advancing innovation that enables worship leaders around the country to consistently execute exceptional events."
A subscription-only magazine, Worship Leader Magazine is the premier magazine for the worship community. Created for church decision makers and leaders, each issue emphasizes leadership, theology, education, and technology, equipping its readers to make informed decisions.
The cutting-edge Recharge LED Light is Mighty Bright's first rechargeable light. Its durable body is beautifully crafted of flexible Silicone, and its diminutive head features two bright white, energy-efficient LEDs. The clip-on Recharge is perfect for affixing to music stands for low light environments, and with a battery lifetime of 13-16 hours it will last through even the longest worship service. The Recharge can be purchased online at http://www.mightybright.com, or at fine music retailers worldwide.
About Mighty Bright
Mighty Bright's uniquely designed, eco-friendly personal lights are portable and affordable. Based in Santa Barbara, CA since 1985, Mighty Bright blends ease of use with impressive functionality and durability. Since LEDs provide hundreds of thousands of hours of light, you can feel good about your earth friendly purchase. For more information, contact Mighty Bright: 800.922.3233 or visit http://www.mightybright.com.