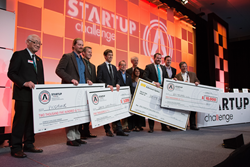 The SPIE Startup Challenge has been a great competition largely because it is a great time to get feedback.
BELLINGHAM, Washington, USA, and CARDIFF, UK (PRWEB) October 21, 2015
New photonics entrepreneurs have through 20 November to enter the SPIE Startup Challenge 2016, an opportunity to pitch their light-based technology products to a team of business development experts and venture capitalists. The annual competition is held during SPIE Photonics West at the Moscone Center in San Francisco, running 15-17 February and hosted by SPIE, the international society for optics and photonics.
Cash prizes, including $10,000 for the first prize, $5,000 for second prize, and $2,500 for third are funded by Founding Partner Jenoptik. Additional support for the training program and the competition comes from Lead Sponsor the National Science Foundation (NSF), and Supporting Sponsors Edmund Optics, Trumpf, and Open Photonics. Edmund Optics also will award the first-place winner $5,000 in products.
Finalists also receive opportunity for training with NSF iCorps instructors, tickets to the Prism Awards for Photonics Innovation gala banquet at Photonics West, and registration and travel reimbursement for training. Throughout the competition, applicants receive feedback on their business models from photonics industry leaders.
The SPIE Startup Challenge is held annually at Photonics West, enabling new entrepreneurs to pitch their light-based technology business plans to a team of corporate development experts and venture capitalists.
Eligible applicants must present an optics or photonics technology or application as the basis for a viable new business. Because the event focuses on new businesses and potential startups, established companies must be pre-revenue at the time of the competition and may not have sold any products.
Written applications will be evaluated by a team of expert judges, who will select 20 semifinalists to deliver oral pitches on Tuesday 15 February.
A second panel of judges will select the top six pitches from the semifinal round. The final round is open to the public and will take place Wednesday 17 February, with the judges deciding the top three pitches and announcing the winners.
Part of the value of the Startup Challenge is that it teaches entrepreneurs about the differences in priority placed on commercialization as compared to academic research, said Adam Wax, a professor at Duke University who has served as a judge and mentor for the past four events. This understanding is essential for connection with venture capitalists, he noted.
"The SPIE Startup Challenge has been a great competition largely because it is a great time to get feedback," said 2014 winner Robert McLaughlin of the University of Western Australia. "The judges have been there, they have done that. Especially coming as an engineer, there is a whole world of complexity in going from technical problems to commercialization. They taught me an awful lot about how do I get from an idea to actually turning it into a company where I can get it out into the world and make a difference."
Winning projects in the 2015 Startup Challenge included SafeSnips, a blood-vessel-detecting technology for surgeons, developed by Briteseed, LLC; a membrane-free optical microphone that detects sound with no moving parts, from XARION Laser Acoustics; and a plasmonic film that replaces a lab-bench worth of equipment with a robust, portable chemical detector, from Picoyune.
More information on the Startup Challenge is at http://www.spie.org/startup, including a link to the application, information on eligibility, structure, rules, and how to become involved.
SPIE is the international society for optics and photonics, an educational not-for-profit organization founded in 1955 to advance light-based science and technology. The Society serves nearly 264,000 constituents from approximately 166 countries, offering conferences and their published proceedings, continuing education, books, journals, and the SPIE Digital Library in support of interdisciplinary information exchange, professional networking, and patent precedent. In 2015, SPIE has provided more than $5.2 million in support of education and outreach programs. SPIE is a Founding Partner of the International Year of Light and Light-based Technologies and a Founding Sponsor of the U.S. National Photonics Initiative. http://www.spie.org