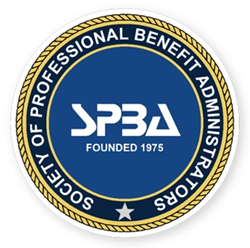 In one particular example, a TPA member shared that 78% of the firm's new business in the last two years represents clients who have moved from fully insured plans to self-funding.
Chevy Chase, MD (PRWEB) October 22, 2015
As recent studies report an increased number of employers moving to self-funded health plans, the Society of Professional Benefit Administrators (SPBA) corroborates these findings and offers the public a helpful resource for connecting with third party administrators (TPAs).
Anne Lennan, SPBA president, explained that the organization's comprehensive-service TPA members have been experiencing significant growth with the self-funded model, especially since the Patient Protection and Affordable Care Act (PPACA) took effect. The increased interest and enrollment was a major theme discussed at the SPBA's annual fall conference in Arizona last month.
"In one particular example, a TPA member shared that 78% of the firm's new business in the last two years represents clients who have moved from fully insured plans to self-funding," Lennan said.
Recently released, the 2015 Employer Health Benefits Survey from the Henry J. Kaiser Family Foundation also stated that 63% of covered workers in the United States are now enrolled in some sort of self-funded plan. In the last 15 years overall, this number is up from 44% in 1999, 54% in 2005 and 59% in 2010.
"The industry is seeing an upward trend as companies of all sizes are moving to self-funding," said Fred Hunt, SPBA active past president. Traditionally, self-funded plans have been more common among large companies, but in the post-PPACA world, they are a realistic option for small companies, too." He added, "When studying the number of workers in self-funded plans reported, we believe the percentages could be even higher and will continue to climb."
To assist the growing population of employers and others who are interested in connecting with TPAs to learn more about the structure and options of self-funding, the SPBA – an organization whose member TPAs work with every size and format of employment and employee benefit coverage – has produced an informational directory.
The SPBA TPA Directory lists all member firms. (Firms qualify for membership by deriving at least 50% of their income from TPA services and acting independently at the board level.) The Directory gives a comprehensive breakdown by TPA, providing contact information and 30+ characteristics about each firm in a unique, easy-access layout. These include:

Geographic region served
Types of plans served (single employer, Taft-Hartley, MEWA/Association, etc.)
Types of services administered (COBRA, wellness, disease management, etc.)
Reported annual revenue
The directory is also available on the SPBA website for purchase in two versions – downloadable PDF or spreadsheet.
"In terms of information, this is a really helpful resource that gives the full picture about individual TPAs as far as types of clients served, services offered and geography," Hunt said. "It was designed to be a unique way to understand the industry and get to know TPAs."
For more information, contact:
Fred Hunt, SPBA Active Past President, fred(at)spbatpa(dot)org or 301-718-7722
SPBA is the national association of Third Party Administration (TPA) firms that manage client employee benefit plans. It is estimated that over 60% of U.S. workers and their dependents in non-federal health coverage are in plans administered by TPAs. The clients of TPA firms include every size and format of employment, including large and small employers, state/county/city plans, union, non-union, collectively bargained multiemployer plans, as well as most industries and professions.