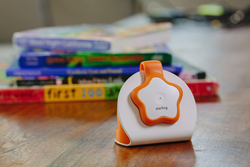 Its value extends into a lifelong benefit.
San Jose, CA (PRWEB) October 23, 2015
Whipsaw Inc., the Silicon Valley-based Industrial Design and Engineering firm that creates innovative products for companies around the globe, joins its client VersaMe in announcing the launch of Starling, a science-backed wearable device that can boost brain development in young children.
When it comes to brain growth and speech development, a child's first four years matter more than the next 80 years combined. Research has now proven that the number of words a child hears throughout the day strongly predicts future vocabulary, IQ, and emotional well-being. Starling's ultimate goal is to motivate parents to talk to their young children to provide this development and have their child reach the stars, at any age.
Shaped like a friendly star, Starling is soft, seamless and safely attaches to babies' clothes via a tethered magnetic clasp. The companion VersaMe app pairs with the Starling to set word count goals, monitor progress and achieve a higher level of verbal engagement; the app also includes activity ideas and challenges.
"My hope is that the Starling becomes a ubiquitous tool to empower parents and families to help all children fulfill their potential in life," states Nicki Boyd, co-founder of VersaMe.
"Design is good when it's in perfect harmony with the user, and even better if its value extends into a lifelong benefit like Starling. Soft, colorful and friendly, we made Starling nearly as cute as your little darling," said Dan Harden, President/CEO and Principal Designer of Whipsaw.
Starling launched on Indiegogo on October 20, reaching 140% of their funding goal in the first 20 hours alone. The campaign is still going strong and would greatly appreciate additional support. No personal need for it and no planned baby shower on the social calendar? No problem, donate a Starling through Indiegogo as the company is also working with non-profit foundations to provide Starlings to low-income families.
About Whipsaw:
Whipsaw is an Industrial Design & Engineering consulting firm located in Silicon Valley California, with a focus on innovative product design, development & branding. Whipsaw creates highly successful products across many diverse fields including consumer electronics, housewares, wearables, medical, computing, scientific, and business equipment.
Whipsaw's clients range from large corporations like Avaya, Cisco, Clorox, Dell, GE, Google, Haier, Intel, Leitz, Merck, Motorola, Nike, Olympus, Samsung, Sony and TP-Link plus exciting startups including Apnicure, Avinger, Dropcam, Highfive, Livescribe, OM Signal and Yubo.
Whipsaw has been widely published; has won over 240 Industrial Design Awards; and has creations in many museums.
For more info visit http://www.whipsaw.com.
About VersaMe:
Started by parents and driven by research, VersaMe has created the world's first education wearable for kids. The company is building tools to improve child development during their most formative years, including the flagship product, the Starling. The companion app shows data in real time, provides tips on how to increase word count when needed and demonstrates the direct and immediate impact words have on a child's development. Whether you're a parent, a grandparent, a caregiver or a family friend, the Starling lets everyone play a role in building the educational foundation for future generations.
To learn more visit http://www.versame.com