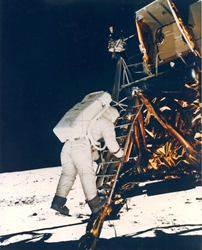 "One small step for man, one giant leap for mankind." - Neil Armstong
Santa Monica, CA (PRWEB) October 22, 2015
Apollo 11 was the spaceflight that landed the first humans on the Moon, Americans Neil Armstrong and Buzz Aldrin, on July 20, 1969. Armstrong became the first to step onto the lunar surface six hours later on July 21. Armstrong spent about two and a half hours outside the spacecraft, Aldrin slightly less.
The third member of the mission, Michael Collins, piloted the command spacecraft alone in lunar orbit until Armstrong and Aldrin returned to it just under a day later for the trip back to Earth.
Duncan Miller Gallery will display and offer a rare set of original NASA photographs of the Apollo 11 mission from November 7 - December 5, 2015.
See the Facebook invitation to the opening reception here: https://www.facebook.com/events/957388484333171/
Duncan Miller Gallery specializes in presenting fine art photography through its gallery and special project http://YourDailyPhotograph.com
Duncan Miller Gallery, 2525 Michigan Ave #A7, Santa Monica CA 90404