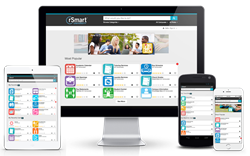 OneCampus is a revolutionary, cloud-based solution designed to help schools move away from heavy, expensive, locally-managed software—including traditional portals.
Scottsdale, Ariz. (PRWEB) October 22, 2015
rSmart, a leader in delivering innovative solutions for higher education, today announced it will attend the 2015 EDUCAUSE Annual Conference. The higher education IT conference will take place from Oct. 27–30 in Indianapolis.
Attendees will have the opportunity to learn about emerging industry trends including how OneCampus, the lightweight, mobile-friendly solution from rSmart, is making it easier than ever for students to find and discover campus services. OneCampus was first introduced at last year's EDUCAUSE conference following Internet2 NET+ service validation.
The revolutionary, cloud-based platform was designed to help schools move away from heavy, expensive, locally-managed software—including traditional portals. OneCampus takes a fresh, new approach to organizing web-based campus services with its Google-like search, ratings, and reviews to effectively analyze what services are being used and satisfaction levels.
"College can be a complex and imposing new world. Students need a way to navigate life on campus from paying fees and registering for classes to finding football tickets or a tutor. And, they want to figure things out the way they usually figure everything out: by going online and doing a quick search," said CEO Tony Potts.
While OneCampus doesn't magically optimize an institution's legacy systems for smaller displays, it can help schools begin to modernize and meet the demand for a responsive search and discovery tool that's as easy-to-use on a smartphone or tablet as it is on a laptop or desktop.
From an IT perspective, OneCampus helps users seamlessly navigate to disparate services, applications, forms, and reports through a centralized point without affecting the underlying business units or processes. As a result, its implementation as well as ongoing updates are fast and easy, and the responsibility of maintenance can be shared by all campus stakeholders.
Since partnering with Indiana University in 2014 to bring this next generation portal to all higher ed institutions, rSmart has worked with more than a dozen schools to deploy OneCampus. In the past year, several features and enhancements have been added to improve the user experience, publishing workflows, administrative features, and overall functionality.
"OneCampus institutions play an important and ongoing role in helping drive future product features and enhancements. rSmart has an active product advisory board and collaborates closely with its customers to identify ways to better serve the end user and administrators," said Lindsay Smith, Client Services Director.
Some of the recent customer-driven upgrades to OneCampus include:

Enhancements to the user interface including the redesign of the header, search bar, and task tiles to make the platform more intuitive from any device;
The introduction of task centers to organize common functions or applications into groups such as activities a student needs to complete during freshman orientation;
Task-level announcements that provide time-sensitive information to users such as system downtime or upcoming deadlines;
Integration with additional authentication systems beyond Shibboleth including CAS, ADFS, and Google Auth;
A branding area that helps institutions easily customize their site colors, logos and fonts; and
The ability to quickly export site information such as a list of tasks, tags, comments or feedback.
"We are honored to work with so many forward-thinking institutions on this important path to progress. It is a bright and transformative time and rSmart is proud to have such a meaningful impact on how college students live and learn on their journey from high school to grad school and into adulthood," added Potts.
Visit EDUCAUSE booth #1942 to learn more about OneCampus, talk with customers, see a demo, and toss a football for a prize. To pre-schedule a personalized tour of OneCampus at the event, visit http://go.rsmart.com/edu15demo or call 866.874.4338.
About rSmart
For more than 15 years, rSmart has been changing the way higher ed thinks about technology by delivering solutions that reduce costs, improve productivity, and simplify the user experience. The OneCampus product is a lightweight, mobile-friendly technology that makes finding campus services faster and easier than ever. rSmart is privately held and headquartered in Scottsdale, AZ. Learn more at https://www.rsmart.com.