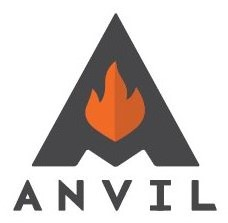 'Anvil's goal is to delight and elevate its employees, not just its clients.' - Kent Lewis, President
Portland, OR (PRWEB) October 26, 2015
Measurable marketing agency, Anvil, is pleased to announce that it is has been recognized by Portland Business Journal as one of Oregon's Healthiest Employers at a recent awards ceremony. For the second year, Anvil was named honoree in the small business category (under 100 employees). The announcement comes after receiving a handful of awards and industry recognition earlier this year.
"Empowering employees to live healthy lives is just good business," stated Kent Lewis, Anvil President and Founder. "We've invested in our team's health and wellness and it's benefited everyone in our community, from our clients to our employees' families."
The Healthiest Employers of Oregon is one of a host of awards presented by Portland Business Journal to Anvil in the past year. Additional Portland Business Journal awards and recognition include the Corporate Philanthropy Awards for Most Philanthropic Small Company earlier in October and Most Admired Companies late in 2014. Anvil takes pride in creating a healthy and employee-friendly workplace, and received the Alfred P. Sloan Award for Business Excellence in Workplace Flexibility in 2014 as a result.
Anvil has also received recognition in 2015 from marketing industry organizations, including:

Best Pay-per-Click Agency by Clutch
Top Rated PPC Company award seal from Great Agencies
Innovation & Excellence in Mobile Marketing by Corporate Livewire
Additional awards and recognition include Portland Business Journal and Fastest Growing Companies (for 5 consecutive years), Inc. 5000 The Fastest-Growing Private U.S. Companies as well as Best Marketing Agency & Best in Search Engine Marketing in Oregon in by AI Business Intelligence. For more information, visit http://www.anvilmediainc.com/outcomes/awards/.
A core element of Anvil's success has been building a world-class team. Anvil recently enhanced its lineup with an experienced group of marketers. New hires include Josh Breese as Director of Strategy, who brings 20 years of interactive experience working at or for companies ranging from startups to Fortune 500s. Anvil also significantly increased the level of experience on the account management front by recruiting Jeshe Burch and Tom Briggs as Senior Account Executives and Beth Payne as Account Coordinator. All three bring nearly 30 years' of collective marketing and account management experience to the team. Anvil also balanced out its subject matter expertise with hires across organic search, paid and social media marketing disciplines. New team members include Nicole Snedden as Organic Search Specialist and Laura Matsuura as Organic Search Coordinator, Hilary Sperley as Paid Media Coordinator and Cori Batey as Social Media Coordinator.
Anvil has been able to continue to aggressively recruit top talent due to a growing client-base. Recent additions to Anvil's client roster include Oregon-based organizations including A-dec, Built Oregon, Dakine, ErgoDepot, Johnson RV, Tactics Board Shop, Vesta and Willamette Valley Vineyards. Anvil continues to service larger brands regionally, nationally and internationally. New clients outside of the Portland market include Circle, Clark College, Colorado State University, General Electric, IdentoGO, Sante Nuts and Singleton Marine Group.
"Our investment in our employees has dramatically improved our ability to delight and elevate clients," stated Mike Terry, Vice President at Anvil. "We don't set out to win awards, but we appreciate being recognized for doing good work and taking care of our people."
About Anvil
Anvil is an award-winning measurable marketing firm with headquarters in Portland, OR that creatively solves business problems for purpose-driven companies. Anvil specializes in providing analytics, search engine optimization, paid media and social media marketing services. Clients include Cambia Health Solutions, Enjoy Life Foods, Moonstruck, Oregon State University and Sonos. For more information about Anvil, visit http://www.anvilmedia.com.