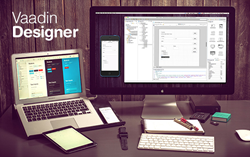 San Francisco, CA (PRWEB) October 26, 2015
Vaadin Ltd launches its visual designer tool Vaadin Designer at the launch of JavaOne, the largest Java developer conference in the world and part of Oracle Openworld.
Vaadin Designer is a tool that let's you drag and drop UI components and create business applications in an instant. The visual designer cuts the development time in half as the developer doesn't need to run the code to view the app, but instead can immediately see the application they are designing. For a Java web app framework, this is the most efficient way to create an application, bar none.
"As developers ourselves, we felt that it's hard to see your end-result in code alone so we wanted to visualize it. In a way, switch on the light for the developer so they wouldn't need to create their apps in the dark. We wanted to give Java developers the same tools as graphical artists have today, but without losing any of the power provided by the programmatic control they are used to. And we're thrilled to release Vaadin Designer 1.0 today, here at JavaOne, in midst of all the best Java developers in the world" says Marc Englund, Product Manager for Vaadin Designer.
Vaadin Designer also supports collaborative design by letting several people view the design live on their own devices - whether they are Android, iOS and Microsoft phones, tablets or desktop browsers. This lets you get feedback on your design as you're creating it, both from your own devices as well as from other people who you are collaborating with. The feedback cycle is thus even further reduced.
"Building business applications is however not only about seeing what you're doing but also having a great base to build on. We've thus made it easy to start a design from a template. You can easily save your designs as templates and share them with your team to facilitate consistency and speed up the work even further." Marc Englund emphasizes.
Vaadin Designer is included in the Vaadin Pro Tools subscription, available for a monthly fee of $39 or as a one-time purchase at $389, and is immediately available, after a half-year long beta period for the Vaadin community of 150 000 developers.
About Vaadin
Vaadin is the company behind the Open Source Vaadin application development tools. Vaadin is today used in over 40% of the Fortune-100 companies by over 150 000 developers worldwide. Vaadin Framework was first open sourced in 2002 and is licensed under the very liberal Apache 2 license. The company's HQ is in Finland with a local office in Silicon Valley and Berlin. The company employs over 90 Vaadin experts. For further information on Vaadin tools and services, see vaadin.com.