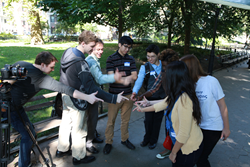 Math Warriors rule!
New York, New York (PRWEB) October 22, 2015
Wackademia, a TV pilot comedy written, directed and produced by Kristina Harris and Roger Anthony, is a spin off from the popular nerd comedy web series "Math Warriors" created by award winning filmmaker Kristina Harris (Winnipeg Film Festival & others. See http://www.MathWarriorsWebSeries.com for details).
Wackademia introduces a group of math grad students from all over the world who converge at the Man. I.T. (Manhattan Institute of Technology) in New York City for the fall semester. The TV pilot comedy has the feel of the hit TV show Big Bang Theory shot mockumentary in the style of Modern Family. Wackademia was shot on location in New York and Jersey City.
The International Film Festival Manhattan which runs from October 22-25 in New York City has been screening films from all over the world since 2011. Those interested in tickets please go to http://www.WACKADEMIA.com or http://www.IFFMNYC.com
IFFM Media Contact: Luis Pedron 347-777-0464 LuisPedron(at)gmail(dot)com
Wackademia Press Contact Info:
Kristina Harris 646-782-9082
Roger Anthony 646-247-3529
mathwarriorstvpilot(at)gmail(dot)com