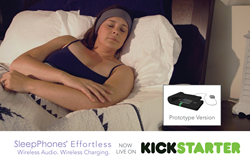 Erie, PA (PRWEB) October 22, 2015
AcousticSheep LLC, creators of the innovative headphones brands SleepPhones and RunPhones, launched a Kickstarter campaign for its newest product, SleepPhones® Effortless, wireless headphones with induction charging. The Kickstarter campaign launched at 7pm EST on October 21st and exceeded its $10,000 target in one hour and 49 minutes.
SleepPhones® Effortless, is the newest addition to the SleepPhones family of products, which have been featured on The Today Show, The Dr. Oz Show, CNN and more. SleepPhones Effortless are Bluetooth®-enabled headphones inside of a soft headband, complete with induction charging technology for a completely wireless experience. These extremely comfortable headphones are ideal for use in bed, for traveling, relaxing, listening to audio books and much more!
SleepPhones® Effortless won a 2015 International Consumer Electronics Show (CES) Innovation Award.
The SleepPhones® Effortless product is available to pre-order now at http://kck.st/1OJtzRN for $129 on Kickstarter until Wednesday, November 18 at 7pm.