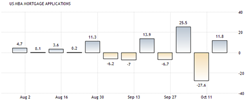 The only way to compete in the housing market is to be pre-approved for a home loan.
Chicago, IL (PRWEB) October 22, 2015
Lenders like The Federal Savings Bank were content to Wednesday's mortgage application results for the week ending on Friday, October 16th.
As shown on TradingEconomics.com, mortgage applications grew 11.8% last week which is a stark rebound to the week prior when applications had fallen a dismal 27.8%. The number of refinance applications grew 8.8% while purchase applications grew 16.4%. Meanwhile, 30-year mortgage rates hit 3.95% a fresh 5-1/2month low.
As a reminder, mortgage applications have averaged 0.5% from 2007 to 2015. The highest number of applications was during a week in January at 49.1 with the lowest number of applications in January 2009 at -38.8%.
Mortgage applications have performed quite well in 2015. More individuals are able to apply and get pre-approved for a home loan thanks to new found employment. As long as the national unemployment rate remains relatively low, more and more Americans will become enabled to purchase a home and property prices will rise. Moreover the competition to buy a home will become fiercer. Already, first-time home buyers are finding that attractive property listings are accepting multiple bids rather than accepting just one offer. The only way to compete in the housing market is to be pre-approved for a home loan. Given that rates are at fresh recent lows gives Americans the opportunity to finally get pre-approved for a mortgage rate nearly 0.75% lower than quoted during the summer!
The Federal Savings Bank expects to see an abnormally high amount of applications this winter and some Americans try to capitalize on home prices possible declining a bit during the winter. Once we enter 2016, The Federal Savings Bank definitely expects a new surge of applications after Americans file their 2015 taxes showing another year of income, possible higher than previous years.
Whether customer, reality or trusted referral source, The Federal Savings Bank understands how important every purchase or refinance transaction is to help our clients optimize the purchase or refinance of their home.