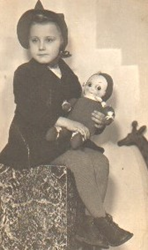 'Girl of the Danube' is 'the progression in the life of a child going from prewar to postwar Hungary.'
Toronto, Ontario (PRWEB) October 23, 2015
Eva Pollak's autobiography "Girl of the Danube" is "the progression in the life of a child going from prewar to postwar Hungary." Having bore witness to the two historical eras, she recounts the realities of everyday life for many who were rooted in inescapable poverty.
For Eva, the hardship began after her father died and her mother could not make ends meet. At the tender age of seven, the girl with the "Jewish sounding name" ended up at an orphanage where anti-Jewish sentiment prevailed. The Nazis marched into Hungary and school ended abruptly. Then came the siege of Budapest and the iron fist of Soviet style communist dictatorship. Years later, the crushed 1956 revolution led Eva, along with many other Hungarians, to take the dangerous road to freedom.
Eva Pollak still remembers the 1956 Hungarian revolution with emotion. She remembers the words of the doctor whom she offered to help at a makeshift hospital in Budapest when the fighting was at its worst: "Go home and pray for victory."
Alas, the victory of the freedom fighters was short lived. As Eva writes, "The ominous sound of rumbling Soviet tanks slowly moving into the capital was a sound one never forgets. The steady murmur of the invading convoy at 4 a.m. marked the beginning of a new wave of terror that was to last for over forty years. The heroic people of Hungary never had a chance."
"Girl of the Danube" includes chapters on the realities of Horthy era Budapest in the 1930s-1940s, the plight of orphans, communism, the Hungarian Revolution, as well as reminiscences of rural Hungary. It is available on Kindle, Amazon worldwide, and Lulu.
Title: Girl of the Danube
Author: Eva S. Pollak
ISBN: 9781304494290
Publisher: Lulu Books