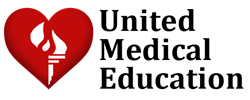 Seattle, Washington (PRWEB) October 23, 2015
United Medical Education is a company that has been instructing nurses and doctors in ACLS certification online for close to a decade. For a limited time they are offering ACLS certification online at a 20% discount for the Holiday season. Healthcare professionals who want to take advantage of the Holiday special can receive their 20% discount by using the promotional code "Holiday" during checkout.
United Medical Education offers ACLS certification, PALS certification, and BLS certification courses online. Each of these courses use an automated teaching, testing and certificate delivery system that allows healthcare professionals to complete their course from any location with an Internet connection without an hour. This is ideal for healthcare professionals needing immediate proof of ACLS, BLS, and PALS certification to prevent lost time at work or loss of employment. All of the courses are included in the Holiday special.
The courses at United Medical Education have been designed for both healthcare professionals and the lay-person alike. The training materials are easy to understand and follow. While an experienced healthcare professional may be able to complete the courses faster than the average individual, everyone can learn the life saving interventions with ease. Each course includes everything necessary to successfully learn the life saving interventions and complete the final ACLS exam. Once the exam is completed an instant electronic provider card is generated and later a hard copy version of the provider card is mailed to the student's home or office.
ACLSCertificationOnline.org also offers a series of free healthcare related articles on their website. Many of their articles are referenced by government institutions to build awareness about disease prevention and also how to act in a medical emergency.
"We want to build a safe and healthy future in our communities," said Brian Clark, Program Director at United Medical Education. "It is our desire to bring about positive change in the training and development of both the healthcare professional."
About United Medical Education:
United Medical Education is the official online institution for ACLS, PALS, and BLS certification. They have nearly a decade of providing the best emergency medical training on the Internet. To learn more about ACLS certification online go to https://www.aclscertificationonline.org.