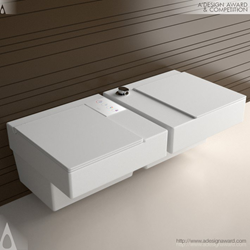 Como, Italy (PRWEB) October 22, 2015
A' International Design Award and Competition, the World's leading design accolade, is pleased to inform that the design project System-One by Nilo Gioacchini con Opus srl per Forsan has been announced as a winner of the Golden A' Design Award in Bathroom Furniture and Sanitary Ware Design Competition Category.
Insights on System-One
Nilo Gioacchini con Opus srl per Forsan, the creative mind behind the award winning Sanitary Ware work System-One explained "At the heart of it lies the awareness that the greatest expression of the relationship between use and aesthetics is Italian Design. System One puts forward an innovative concept for sanitary ware, based on a new distributive logic of spaces and functions in the bathroom. The synthesis, both in forms and volumes, contributes to determining an essential geometry. System One is flexible and adaptable to the most varied architectural conditions, recovering unused space but also extending to broader and more prestigious compositions." Learn more and download high-resolution photos at: https://competition.adesignaward.com/design.php?ID=39529
The Golden A' Design Award
The Golden A' Design Award is a prestigious design award given to top 3% designs that demonstrate the highest levels of aesthetics and utility. The A' Sanitary Ware Design Award entries are voted by an expert jury panel of international editors, scholars and professionals following predetermined evaluation criteria. Laureates are given an all inclusive design prize to celebrate their success. The A' Design Prize includes extensive PR and publicity services in addition to the design excellence certificate, good design mark as well as the award trophy and yearbook. Laureates of the A' Design Award are further exhibited in the MOOD Museum of Design as well as other international design exhibitions worldwide.
About A' Design Award and Competition
Since 2009, The A' Design Award and Competition highlights the very best designs, design concepts and design oriented products worldwide. A' Design Award and Competitions are organized internationally in a wide range of creative design categories and design disciplines to reach a global, design-oriented audience. The ultimate aim of the A' Design Award & Competition is to create awareness for good design practices and principles through promotion of great design work from across the globe. Learn more and discover A' Design Award at: http://www.designaward.com