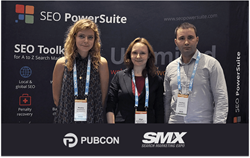 (PRWEB) October 22, 2015
Earlier this month, Link-Assistant.Com's team exhibited at the two largest and most established shows in the online marketing industry: SMX East and Pubcon. SMX East was held in New York City on September 30 – October 1, 2015, and Pubcon took place in Las Vegas on October 5-8, 2015. Link-Assistant.Com is the software house behind SEO PowerSuite and BuzzBundle, the industry's favorite internet marketing tools, which combine powerful functionality with minimized costs.
Apart from networking with the audience at the expo hall, Katherine Stepanova, Head of Marketing and Communications, Link-Assistant.Com, attended most of the sessions to bring home a summary of the most important SEO takeaways to consider for 2016.
The 7 top SEO trends for 2016 as seen by SEO PowerSuite team include:
1. Higher Google ranks no longer mean more organic clicks.
Paid ads, update local pack, direct answers, carousel results, rich snippets have altered the SERP layout tremendously. As a result, users interact with Google pages differently, and #1 rankings might be not that valuable as it used to be.
2. The rise of rich answers: a threat or an opportunity?
These days Google returns rich answers to 35% of queries, which is a 38% increase over the past 6 months. The good news is, for 75% of rich answers Google uses external data, linking to the source, which means an opportunity for publishers getting to the viral spot.
3. Page speed and why you need to improve it right now.
Page speed is a ranking factor: all other things being equal, the site that loads quicker will outrank a competing site. Page speed gets more important for user experience and conversions: 1 second in loading time decreases conversions by 1%.
4. Tracking organic traffic in Google Analytics gets even harder.
Google Analytics increasingly becomes unable to identify one's traffic sources, labeling this 'dark traffic' as direct, which is misleading for marketers. Luckily, there are opportunities to decode dark traffic presented in the guide.
5. Keywords are not dead; but how Google looks at them changed.
Keywords are still the basis of one's SEO campaign, but they should be viewed upon differently. The advanced keyword research tactic is about shifting the focus from researching separate keywords to researching groups of related terms and synonyms.
6. Link penalties are no joke, but all penalties are removable.
Even if a site hasn't been hit by link penalty, webmasters should actively run backlink analysis and disavow low quality links. In case there's a penalty, the important thing to remember that removing penalties is hard but absolutely possible, and there are proven strategies to follow.
7. How user behavior will be affecting your rankings soon.
Though it hasn't been officially confirmed that user behavior affects rankings, experiments prove it does, and the tendency is clearly growing. With that in mind, forward-looking SEOs should adopt a 2-way SEO approach: classic Google-oriented approach and the new user-oriented one.
The detailed SEO PowerSuite's guide featuring top 7 SEO trends for 2016 can be found at http://www.link-assistant.com/news/7-seo-trends-for-2016.html. Got a question or feedback? Join the conversation in the comments.
About Link-Assistant.Com
Link-Assistant.Com is a software house with a focus on developing cutting-edge online marketing tools. The company's flagship products include SEO PowerSuite (all-in-one SEO software) and BuzzBundle (social media software). Both products are desktop, which lets the company put no limits on data, have an enormous number of features, yet keeping the price for products affordable. More information about Link-Assistant.Com and their products is available at the official website http://www.link-assistant.com. The company carefully follows the industry trends, sharing crucial updates on Twitter @LinkAssistant, Facebook fb.me/LinkAssistant, LinkedIn and Google+ gplus.to/LinkAssistant.