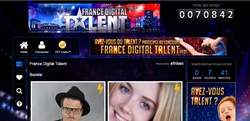 The eTribez partnership has enabled Fremantle to maintain being pioneers in television and the digital ecosystem. It's taken our casting to another level, where the audience is no longer passive. Fouede Zabaiou, Digital and Information Systems Director
Tel Aviv, Israel (PRWEB) October 26, 2015
eTribez, the world's leading provider of digital solutions for the entertainment industry, recently capped off an exciting season of France Digital Talent ('La France a Un Incroyable Talent'), with our innovative and unique Crowd Casting solution.
Working with FremantleMedia France, eTribez used our Crowd Casting solution to determine five of the contestants for the show – solely by audience selection. The show received major buzz, and ended up as a huge success.
For the unique five-week competition:

The online contestants created thousands pieces of content including videos, that reached millions of views.
Fans used credits to vote for and boost their favorite contestants, as well as support them with virtual gifts. This helped give fans a unique way to connect with and feel part of the show.
Fans earned virtual credits for free, by logging in each day and sharing with their friends on social networks.
Fans were able to buy virtual credits with micro payments.
All of the content was shared by the show's fans on social networks.
About eTribez
eTribez creates and develops unique monetization and revenue-generating opportunities for broadcast networks and TV production companies around the world. eTribez is the industry leader in digital audience engagement and TV production management technology. Since its founding in 2011, eTribez has empowered broadcast networks and production companies with the ability to streamline production, generate new revenue streams, and strengthen viewer loyalty. eTribez' cutting-edge technology provides market players with a comprehensive suite of solutions to operate the most successful and efficient production processes in the entertainment industry.
About FremantleMedia France
FremantleMedia France was launched in 1988, and today is one of the largest production companies in France. FremantleMedia France produces entertainment, game shows, and several original hit shows including France Digital Talent ('La France a Un Incroyable Talent'), Idols (La Nouvelle Star), Supernanny, and more.
For more about eTribez, please contact info(at)etribez(dot)com, call: 888-414-3695, or visit us at http://www.etribez.com.