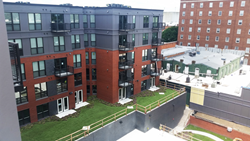 The planted roof-top lounge serves as a visual hallmark to EdR's sustainability as well as our livability efforts.
Athens, Georgia (PRWEB) October 23, 2015
What once was a hot surface parking lot in downtown Athens, Georgia, is now the environmentally responsive Georgia Heights collegiate housing community. EdR, one of the largest developers, owners and managers of high quality collegiate housing, has thoughtfully designed and engineered the recently opened Georgia Heights to be an eco-responsible housing development. The design includes underground water quality treatment chambers and a 1,200 square feet LiveRoof rooftop garden. These systems all work in concert to help trap, treat storm water, and filter out impurities, in addition to cooling surface temperatures.
"The planted roof-top lounge serves as a visual hallmark to EdR's sustainability as well as our livability efforts," said Tom Trubiana, president of EdR. "Green lounge or activity spaces are valued amenities at our communities because they provide our residents a place to relax and renew away from the demands of college life."
"The Georgia Heights planted roof provides a unique stormwater management system and serves as a model for responsive, environmentally conscious planning and construction," according to Ken James, President of James Greenroofs, the licensed grower for LiveRoof systems servicing Florida, Georgia and surrounding states. "We are proud of the contribution this living roof will make to the quality of life for its residents and neighbors."
Smith Planning Group, a civil engineering, land planning, and landscape architecture firm, worked with LiveRoof and James Greenhouses to incorporate green infrastructure on the project.
"Smith Planning Group always strives to implement unique and creative design to set its projects apart, with the ultimate goal of creating spaces that people will love," says Ed Lane, PE, Senior Project Engineer. "Urban design in particular provides a huge opportunity to create places of lasting value to the local community, and the Georgia Heights project in Downtown Athens is one such project."
"Athens deserves projects that go beyond what's expected. From the street, you may not be able to see all the engineering at play or enjoy the beauty of LiveRoof that lies behind the stunning facades, but you should have comfort in knowing it's there," adds Lane.
The general contractor for the project is the award-winning Juneau Construction, and the vegetated roof was installed by Valleycrest Landscape Companies.
Green roofs provide nature, function and beauty. A patented, subterranean modular system unites the soil and plants creating a naturally beautiful meadow-like aesthetic. The roofs provide aesthetic, environmental and social benefits.
Financial benefits can also be achieved from a vegetative roof including: extension of roof life, energy conservation, enhanced public relations, and conservation of municipal septic systems.
Photographers/Videographers Welcome
Please contact: Robby Jourdan, 770-765-6817, rjourdan@jamesgreenroofs.com
About LiveRoof® Global, LLC
LiveRoof Global, LLC (http://www.liveroof.com) is the horticultural science company that developed the LiveRoof® Hybrid System, whose natural function and natural beauty offer the highest level of green roof performance at the lowest level acquisition-installation-maturation-maintenance costs. Combining the best elements of proven green roof technologies, LiveRoof establishes a seamless vegetative surface rooted in a continuous layer of soil. This design maximizes environmental benefits, energy savings and rooftop aesthetics. Regional growers in its global network adapt LiveRoof plants for local conditions and customize plant selection for every project. The proof is on the roof showcased in LiveRoof projects that stand out as signature elements on commercial, public, university and school buildings throughout the globe.
Media Contact:
Amber Poncé, GRP
Business Development Manager
LiveRoof Global, LLC
616.935.1964
About James Greenroofs
The Southeast's supplier of the LiveRoof®, James Greenroofs is dedicated to providing the most sustainable and best functioning hybrid green roof system on the market. Backed by over 15 years of commercial growing experience in the Southeast and a national network of producers, James Greenroofs can produce a LiveRoof® system that meets the specific requirements of any building project.
Media Contact:
Robby Jourdan
770-765-6817
rjourdan(at)jamesgreenroofs(dot)com
About Georgia Heights/EdR
Georgia Heights is an upscale, off-campus collegiate apartment community in Athens, GA just steps from the University of Georgia, popular restaurants and local shopping. The community offers residents an enviable list of amenities along with one-, two- and four-bedroom floor plans. The community is owned and managed by EdR, one of the largest developers, owners and managers of high-quality collegiate housing. A leader in the collegiate housing industry since 1964, EdR currently owns/manages 81 communities on or adjacent to Tier 1 universities across the nation.
Media Contact:
Susan Jennings
Vice President of Corporate Communication and Marketing
901-259-2506
sjennings(at)edrtrust(dot)com