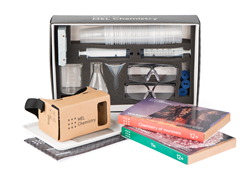 (PRWEB) October 23, 2015
MEL Science today announced the launch of new, re-invented tool to study Chemistry - MEL Chemistry. MEL Science brings chemistry into the 21st century with an exciting new concept delivering Chemistry sets to your door each month as a subscription service. Complete with virtual reality goggles letting you 'swim' with the atoms, a mobile app (melscience.com/app), chemicals and web based, interactive guidelines and videos, Chemistry has never been such fun. The MEL Science concept is sure to stimulate children's' enthusiasm for learning Chemistry in a fun, informative and engaging way.
Unlike the traditional Chemistry set which really just enables children to carry out a few scientific tricks without really understanding the science behind it, the MEL Science Chemistry kit is fully supported by online tutorials accompanied by stunning graphics and easy-to-understand explanations that will even teach us parents a thing or two. There will even be a mobile app with support for each experiment and the facility to post the results on the MEL Science website and social media. And if that wasn't exciting enough, the set comes with a virtual reality headset which allows 3D 'visualization' of molecules!
Starting this week, teens and parents in the United States, United Kingdom and Russia are able to subscribe to MEL Science sets online at http://www.melscience.com and receive three boxes of incredible experiments, with all the necessary reagents and equipment, every month for a year. Add on the two extra sets in the starter kit, and over a year you get 38 chemistry sets for almost 100 experiments that teens and their parents can easily and safely do together at home, to spend time discovering the world of chemistry and learning how everything works.
MEL Science (melscience.com) is an international scientific and educational company that was founded by science 'geeks' from London and St. Petersburg. It's Vassili's second start up, the first being a mobile app development company; SPB Software, which produced the #1 bestselling Windows Mobile app 2005-2007 and was eventually bought by Russian internet giant Yandex in 2011. Part of the funds from this sale was invested into MEL Science and a very strong science team was formed, including two winners of the St. Petersburg Chemistry Olympiad as well as two winners of the citywide Physics Olympiad.