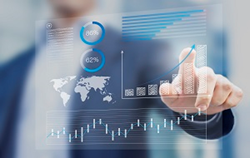 Boulder, Colo. (PRWEB) October 27, 2015
Enterprise Management Associates (EMA), a leading IT and data management research and consulting firm, today announced it will host a webinar titled "Enhance Your Applications with Embedded BI," featuring John Myers, managing research director at EMA, and Dean Yao, director of marketing at Jinfonet Software.
With the ever-growing demand to analyze data, it has never been more important for a product or application to present its data for interactivity and decision-making. This webinar will address how to embed the power of business intelligence (BI) into an existing application to work with all one's data.
Myers and Yao will deliver insights on how to leverage embedded BI, reporting, and data analysis in one's application, as well as address:

The definition of embedded BI
Embedded BI versus traditional BI applications
Types of data used within embedded BI applications
How to integrate BI within an application
Self-service capabilities of embedded BI
BI needs of SMBs versus enterprises
At-a-glance positioning of 12 BI vendors
The webinar is Tuesday, November 3 at 2:00 p.m. Eastern. Those who wish to attend can register at: http://research.enterprisemanagement.com/enhance-your-apps-with-embedded-bi-webinar-pr.html
About EMA
Founded in 1996, EMA is a leading industry analyst firm that specializes in providing deep insight across the full spectrum of IT and data management technologies. EMA analysts leverage a unique combination of practical experience, insight into industry best practices, and in-depth knowledge of current and planned vendor solutions to help their clients achieve their goals. Learn more about EMA research, analysis, and consulting services for enterprise line of business users, IT professionals and IT vendors at http://www.enterprisemanagement.com or blogs.enterprisemanagement.com.