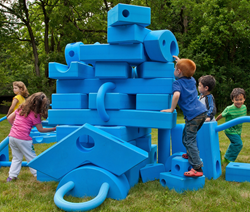 "As we draw near the end of the year, we want to thank our school partners for their input and support this past year in a BIG way…by giving them a chance to win an Imagination Playground for their school."
New York, New York (PRWEB) October 24, 2015
Imagination Playground, LLC, http://www.imaginationplayground.com, creators of the breakthrough play space concept that encourages child-directed, unstructured free play, announced today their BIGS Holiday Give-A-Way. Educators (principals, teachers, school administrators) are being rewarded with a chance to win a 105 piece Big Blue Blocks set and choose a gift for registering.
Supporters are invited to register by visiting http://www.imaginationplayground.com/giveaway.html. Once they register by filling out a form and choosing their free gift, they are entered to win the Imagination Playground. The drawing will be held on Christmas Day, Friday, December 25, 2015 and the winner will be notified by Thursday, December 31, 2015.
Educators can choose between two gifts as a thank you for entering—a Pop-Out Mini Playground (21 pc. Desktop block set) or three Guides to Play (3 booklets offering Imagination Playground's thoughts on guidance to creative play). Over 400 educators registered within the first days of the offer being communicated on the Imagination Playground Facebook page.
"As we draw near the end of the year, we want to thank our school partners for their input and support this past year in a BIG way…by giving them a chance to win an Imagination Playground for their school," shared Dave Krishock, President, Imagination Playground.
Krishock went on to say, "We are making great progress this year towards our mission to bring creative play to two million more children, four million more parents, and six million more educators. But we still have more to go to reach that goal—we are hoping our education partners will decide to greet returning students in 2016 with the creative play offered by Imagination Playground."
To learn more about Imagination Playground, visit http://www.imaginationplayground.com/index.html.
To purchase Imagination Playground block sets, visit http://shop.imaginationplayground.com.
About Imagination Playground, LLC
Imagination Playground is a breakthrough play space concept developed to encourage child-directed, creative free play. The kind of play that experts say is critical to children's intellectual, social, physical and emotional development. Created by architect and designer David Rockwell and the Rockwell Group, Imagination Playground enables children to play, dream, build and explore endless possibilities. Imagination Playground finds its home in daycare centers, kindergartens, elementary schools, children's museums—and science, nature, discovery centers, camps, community centers, children's hospitals, hotels, public parks and more—in North America and over 60 countries overseas. For more information, visit http://www.imaginationplayground.com