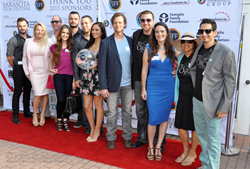 Sarasota, FL (PRWEB) October 22, 2015
House of John Productions today announced that their Florida Gulf coast shot, produced and financed film 'Paradise, FL' will be screened at the Virginia Film Festival on Saturday, November 7th at 4:45 PM at the Violet Crown at 200 West Main Street in Charlottesville, VA and at the Iphias International Film Festival November 12-15 in Falmouth, Jamaica.
"We are pleased to welcome 'Paradise, FL' writer and producer Tony Stopperan to the Virginia Film Festival for their Saturday screening," said Jody Kielbasa, Director of the Virginia Film Festival and Vice Provost for the Arts for the University of Virginia. "The VFF is becoming increasing focused on presenting the work of emerging film artists and I am particularly happy to welcome a fellow FSU/Asolo Alumnus from my former home in Sarasota to this year's Virginia Film Festival."
'Paradise, FL' tells the story of a struggling oysterman who finds himself fighting for the family he didn't know he needed while hiding from his personal demons behind an Oxycodone addiction..
'Paradise, FL' premiered at the Sarasota Film Festival to more than 800 people and it was the only film of over 280 films to have three screenings - all of which were sold out - making it the most viewed film at the festival with nearly 1500 attendees in total. 'Paradise, FL' recently opened the inaugural Skyway Film Festival in June at the Manatee Performing Arts Center.
House of John producer and 'Paradise, FL' writer Tony Stopperan stated that "The inclusion of Paradise, FL in the Virginia and Iphias Film Festivals is an honor. It is also testament the universality of the story being told. While set in a fictional Florida town, the examination of the cycles of poverty and addiction in a family are relevant to a much broader audience. I am very appreciative to both festivals for furthering the reach of this film."
The film is directed by Ringling College alumnus Nick Morgulis and was written and produced by Tony Stopperan and cast by Adrienne Stern Casting. Kristopher Higgins (Devil's Knot) stars as a husband and father caught between two women, his mistress Kelly, played by Lauren Sweetser (Winter's Bone) and his wife Maggie, played by Heather Robb (Stake Land), each a mother of one his children. Jon-Michael Miller (MTV's One Bad Choice) makes his feature debut as Tommy, who moves in to help Sean put his family together after Maggie's suicide attempt. With the help of Koko, played by Mary Mara (Ray Donovan), Tommy must overcome past demons and current addictions to keep his newfound family from falling apart.
'Paradise, FL' is a House of John Production in association with Media & Management Global and TriForce Pictures. Production is sponsored by BMO Private Bank and Ringling College of Art and Design. Visit http://www.paradiseflmovie.com for more information on the film.
Links:
http://www.paradiseflmovie.com/
http://virginiafilmfestival.org/films/paradise-fl/
http://iphias.com/
About the Virginia Film Festival
The Virginia Film Festival is presented by the University of Virginia. Founded in 1988, the Virginia Film Festival's mission is to meld the creative interests of the international and American Film Industry with the intellectual resources of our nationally ranked University. The Festival has grown into an event of national significance, engaging a large number of University faculty and attracting substantial industry and public attention. Last year's Festival drew over 28,000 people in just 4 days and is Charlottesville's largest and most important cultural event. Originally founded by former Virginia Governor Gerald Baliles, the Virginia Film Festival is the state film festival and attracts an audience throughout the Commonwealth and the mid-Atlantic. The Festival is entertaining, inspirational, and educational, and just plain fun all rolled into a jam-packed 4 days of over 125 films an events that captivates Charlottesville and has become a beloved institution.
About the Iphias International Film Festival
The IPHIAS International Film Festival (IIFF) is committed to showcasing films that will change lives and empower audiences. Though diverse in content and presentation, IPHIAS selections are unified by themes that promote positive values, celebrate family, and further important social interests. IPHIAS will be that platform for promising filmmakers who have not yet exploded onto the international scene and will screen an intoxicating blend of national and international features, documentaries, music videos, and shorts.
Set against a stunning Caribbean landscape, visiting filmmakers at IIFF can enjoy luxurious accommodations in the host city of Falmouth, Jamaica. The 1st Annual IPHIAS International Film Festival (IIFF) presents an opportunity for groundbreaking and dynamic independent films to be recognized by some of Hollywood's hottest stars, producers, distributors, critics, and media, meaning prime exposure opportunities for selected films and screenplays.
About Ringling College of Art and Design
Ringling College of Art and Design is a private, not-for-profit, fully accredited college offering the Bachelors of Fine Arts degree in 13 disciplines: Advertising Design, Computer Animation, Film, Fine Arts, Game Art, Graphic Design, Illustration, Interior Design, Motion Design, Photography & Imaging, Creative Writing (pending SACSOC approval), Critical and Visual Studies and a Bachelor of Arts degree in the Business of Art & Design. Located in Sarasota on Florida's Gulf Coast, the picturesque 48-acre campus now includes more than 110 buildings, and enrolls nearly 1,300 students from 44 states and 54 countries. It is recognized as being among the best and most innovative visual arts colleges in the United States as well as a leader in the use of technology in the arts. Visit the Ringling College website, or follow Ringling College on Facebook and Twitter for more news and information.
More on 'Paradise, FL':
Mark Famiglio, Sarasota Film Festival President, called 'Paradise, FL' "A well-conceived and beautifully filmed piece replete with superlative acting and a large measure of artistic integrity. A true gem."
Jacob Ogles of SRQ Magazine: "Paradise, FL is a film that satisfies, one that connects stunning imagery with a captivating story that produces ample emotional resonance…this is a story about loyalty more than one about addiction or family catastrophe, but the beauty is the film will appeal to those looking for an exploration of human tenacity or a dissection of character flaws."
John Woodruff of SNN: "Paradise, FL [is] a treat for festival-goers. The film has the type of loose, free-flowing structure that is a welcome change from the closely focused-grouped world of multiple rewrites that typically dominates screen 10 at the Hollywood 20…there's some real, veritable talent on display here."
Skyway Film Festival Artistic Director Joe Restaino, "Paradise, FL is a brilliant independent film that just so happened to be shot in our area. It brings the best out of the talent of the Bradenton and Sarasota film industry. It's these types of films that push area filmmakers to strive for success and at Skyway we had to bring it back for those who missed it at the Sarasota Film Festival. Even those who may want to see it for a second or third time. It's that good!"