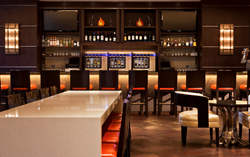 Because of such a large regular following, we feel it's important to constantly add new offerings to our menu," said Chef Sam El-Sheikh. "Our guests are always excited to see something new to try.
TYSONS, VA (PRWEB) October 26, 2015
With its contemporary look, feel and warm ambiance, Brix And Ale is a local favorite located in Tysons West (adjacent to the Silver Line Metrorail Station), a bustling Washington, DC suburb. The restaurant is highly ranked on TripAdvisor within the Tysons community and the team is excited to announce the newly designed menu along with added features and offering.
"Because of such a large regular following, we feel it's important to constantly add new offerings to our menu," said Chef Sam El-Sheikh. "Our guests are always excited to see something new to try." For starters, what was an all-day menu in the past, Brix And Ale will now offer separate lunch and dinner menus, creating a masterful selection of dining options for each meal period. These menus clearly capture Chef Sam's talents while diversifying options for our guests. Starting with lunch, the chef focuses on a healthy gluten free favorite with the Cajun Salmon Salad served with mixed greens, blueberries, cashews, red raspberries, tomato and a light citrus vinaigrette. The new lunch menu provides many salad options, an abundance of burger and sandwich selections and main course options including Tagliatelle Pasta Bolognese and Angus Beef NY Strip.
While the lunch menu is an exciting change, the dinner menu will truly take guests to a happy place when it comes to enjoying great food, great wine and great company. Chef Sam presents one of his favorites; Day Boat Scallops served with Butternut Squash and Ginger Apple Butter, another gluten free option and already a fan favorite. For the land lovers, the chef prepares a succulent Grilled Half Roasted Chicken or the ever- popular Flame Grilled Cowboy-Cut Black Angus Rib Eye.
In addition to the new lunch and dinner menu, Brix And Ale boasts a new breakfast buffet, a new cocktail and shared bites menu (Starwood's Paired Program) and made to order fresh sushi options by Sushi Chef J. Kim. These enhancements are all part of the Brix And Ale team's desire to improve the guest experience within the already well-known restaurant. These additions look to delight the domestic and international traveler as well as the business and leisure traveler who frequent Sheraton Tysons Hotel and the Tysons neighborhood. It is an exciting time for the Brix And Ale team, its local clientele and hotel guests at Sheraton Tysons Hotel.
The Sheraton Tysons Hotel is managed by Crescent Hotels & Resorts.
About the Sheraton Tysons Hotel
Each Guest will experience a fresh contemporary look, a warm relaxed environment and a friendly welcome, all within an urban retreat setting. Conveniently located to Washington, D.C. and the heart of Northern Virginia, Guests will find an abundance of activity to include dining, shopping, local business, historical sites, national parks, wineries and Virginia's majestic countryside. Nestled in the newly developed and Metrorail accessible neighborhood called Tysons West, the Sheraton Tysons Hotel acts as a home for Business and Social travelers visiting the region. The Sheraton Tysons Hotel provides a place where colleagues, co-workers, friends and family may "connect" while creating meaningful memories and experiences. For more information, visit the hotel website, call (703) 448 1234, like on Facebook or follow on Twitter.
The Sheraton Tysons Hotel is under the management of Crescent Hotels & Resorts and owned by The JBG Companies.
About Crescent Hotels & Resorts
Crescent Hotels & Resorts is a nationally recognized, top-5 operator of hotels and resorts. Crescent currently operates over 100 hotels and resorts in 27 states in the US and 5 provinces in Canada. Crescent is one of the few elite management companies approved to operate upper-upscale and luxury hotels under the brand families of Marriott, Hilton, Starwood, Hyatt and IHG. Crescent also operates a collection of legendary independent hotels and resorts. Crescent's clients are made up of hotel REITs, private equity firms and major developers. For more information, please visit http://www.chrco.com.
About The JBG Companies
Headquartered in Chevy Chase, Maryland, The JBG Companies is a private real estate investment firm that develops, owns and manages office, residential, hotel and retail properties. The company has more than $10 billion in assets under management and development in the Washington Metropolitan Area. Since 1960, JBG has been active in the communities where it invests, striving to make a positive impact. More information can be found by visiting the company's website: http://www.JBG.com, or by calling 240.333.3600.
About Sheraton Hotels & Resorts
Sheraton helps guests make connections at more than 400 hotels in 70 countries around the world and recently completed a $6 billion global revitalization and is now in the midst of a $6 billion global expansion over the next three years. Sheraton is owned by and is the largest and most global brand of Starwood Hotels & Resorts Worldwide, Inc. is one of the leading hotel and leisure companies in the world with 1,090 properties in 100 countries and territories with 154,000 employees at its owned and managed properties. Starwood Hotels is a fully integrated owner, operator and franchisor of hotels, resorts and residences with the following internationally renowned brands: St. Regis®, The Luxury Collection®, W®, Westin®, Le Méridien®, Sheraton®, Four Points® by Sheraton, Aloft®, and ElementSM. The company boasts one of the industry's leading loyalty programs, Starwood Preferred Guest (SPG), allowing members to earn and redeem points for room stays, room upgrades and flights, with no blackout dates. Starwood Hotels also owns Starwood Vacation Ownership, Inc., one of the premier developers and operators of high quality vacation interval ownership resorts. For more information, please visit http://www.starwoodhotels.com
rw Stayinwashingtondc.com #stayinwashdc