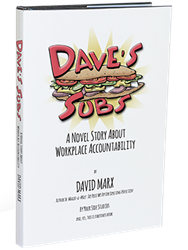 New York (PRWEB) October 22, 2015
In the wake of a disastrous event with a customer, how does a manager learn to properly hold employees accountable for their actions? Can industrial leaders such as Volkswagen or General Motors learn a lesson in accountability from a New Jersey sub sandwich shop manager? Framed within a work of fiction, author David Marx attempts to resolve a problem every manager faces — create a culture of accountability in their workplace. With 20 years of helping high consequence industries like aviation and healthcare create strong safety cultures, Marx turns his attention to all employers by helping every manager get inescapably fallible human beings to create awesome results.
Dave Sub's: A Novel Story about Workplace Accountability follows a year in the life of Milo, the manager of the sub shop, after his employee, Alisha, mistakenly gives gluten-filled bread to a prominent local attorney who suffers from celiac's disease. Calls to fire his sub artisan come from every corner; yet, Dave, the owner of the chain, decides to take a stand. He will not fire an employee for making a simple human mistake. And from there the story unfolds — how Milo will hold his employees accountable, how he will create a new culture of accountability. Milo must face the inescapable fallibility of his sub artisans, as well as how each of his employees use their free will to make good and bad choices in the workplace. Milo must even face his own accountability as he struggles with his own contribution to the event that started him on this journey.
It's a business book. It's an instructional tale for every CEO, director or manager who's had to learn how to hold her employee accountable, to learn how to create a strong organizational culture. It's even a story for the everyday employee — giving them a glimpse of a truly aspirational workplace culture.
About the Author
David Marx is a manager. He spent much of the last 25 years managing his own firm, while at the same time working with organizations around the world to help them create strong organizational cultures. Systems engineering, human factors, law — Marx has an eclectic background that's positioned him as a pioneer in the field of organizational improvement. Today, organizations around the world, from airlines to hospitals, from power companies to government regulators, use David's methods and tools to produce better results.