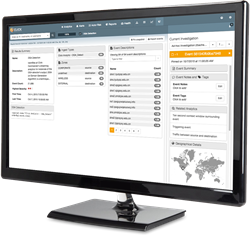 Click Security has just added a reporting capability that matches exactly what we were looking for. --Michael Kennemer, Info-Sec Operations Lead at Celanese
Austin, Texas (PRWEB) October 27, 2015
As the role of cyber security in businesses increases, company leadership, from the CEO and CISO all the way to the Board of Directors, are demanding clearer visibility into their organization's risks and threats. Click Security, the creator of proactive incident response, today released a C-Level security intelligence dashboard directly within its product. Click can now quickly generate reports that visualize potential risks and exposures in both historical and real-time context, while providing intelligence to drive business decisions. Current Click customers automatically have this powerful solution at their fingertips starting today.
Armed with business-oriented data visualizations and threat exposures, the security team can quickly update leadership on the current state of security. The reports graphically depict not only where risks lie, but also what has been done and what still needs to be accomplished. Much like a sales forecast, Click's threat assessment reports provide data analysis for immediate business decisions, which will help ensure the resiliency of the company against cyber attack.
"Click Security has just added a reporting capability that matches exactly what we were looking for, said Michael Kennemer, Info-Sec Operations Lead at Celanese. "They have been very responsive to our needs from one release to the next and the new reporting features answers questions before we need to ask."
Click Security C-Level Security Reporting:
Use the new Reports dashboard to get a high-level view of how your network's risk profile has changed over the past week. With one click these reports can be accessed in the Click solution, and then scheduled to automatically run and even be delivered directly to company leaders on a pre-determined schedule.
Current Click users are utilizing this new feature to enable a new era of network security visibility for company leaders and show them exactly what is happening. Reports include the ability to:
--Assess system-tuning and security prioritization efforts by visualizing all security alerts, and their severity, threatening the company.
--Visualize trends in advanced malware detection across the network and how it is being handled.
--Identify unusual and abnormal authentication activity and show all failed authentications grouped by type to provide intelligence on malicious user behavior.
--Analyze blacklist activity and show the number of blacklisted hosts grouped by whether the source or destination was blacklisted.
--Identify unauthorized communication channels by showing IRC, RDP, SSH, DNS, TOR, and other activity grouped.
--Ensure employee quality of experience with analysis of users gaining correct and authorized access to systems needed to perform their jobs.
About Click Security
Click transforms your incident response team from reactive to proactive by giving them the visibility they need to protect your organization. By rapidly delivering contextual intelligence, Click can detect, investigate, and resolve these threats before an incident occurs. The technology then works to capture the collective knowledge of analysts to continuously learn and identify future risk. See it, secure it, and share it at ClickSecurity.com.