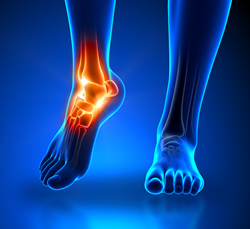 The Footsie Roller allows participants to stimulate the nerves of the foot which can aide in relaxation, increase blood circulation, promote better sleep, assist in relieving pain associated with planter fasciitis and heal spurs
Orland Park, Illinois (PRWEB) October 22, 2015
"A founding goal of New Vitality Health Foods, Inc. is to continually implement new ways to benefit our customers. We have expanded our line of therapeutic products with the addition of the Dry Skin Brushes, Essential Oils Air Diffusers, and now with the Footsie Roller," shared Diana Sourek, MS, CNC, Certified Gluten Practitioner and manager, New Vitality Health Foods, Inc.
The Footsie Roller allows participants to stimulate the nerves of the foot which can aide in relaxation, increase blood circulation, promote better sleep, assist in relieving pain associated with planter fasciitis and heal spurs. (1)
Plantar Fasciitis is a painful foot condition that affects the heel and archers. Reflexology, the ancient Chinese art form that helps to promote balance between all of the body's organs and systems, can help many people find relief from this pain in their feet. The Footsie Roller taps into the healing benefits of reflexology.
Heel pain from Plantar Fasciitis can range from mildly irritating upon standing to debilitating pain that makes movement difficult. Friction massage of the plantar, or bottom, of the foot is beneficial as part of a treatment plan for plantar fasciitis and can be achieved with the Footsie Roller.
Heel spur is caused by the displacement of calcium on the bone that forms on the underside of the heel; it may be one small bony protrusion or a collection of tiny, irregularly shaped growths on the bone of the heel, which is called the calcaneum. Heel spurs are sometimes painful. Heel spurs and plantar fasciitis are often related. (2)
The Footsie Roller is an excellent tool to massage the foot especially the heel. By stretching the toes and massaging the toes and heel, the scar tissue heals as stronger and more resilient tissue. Warm oil massages are extremely beneficial for the feet; frequent foot massages increase fluid flow, speed up the healing process and break up scar tissue. If someone suffers from heel spur pain, warm up a small amount of coconut oil and deeply massage it into the heel. Also, because of its anti-inflammatory properties, try using essential oils during a foot massage. Ideal essential oils to try include rosemary oil, thyme oil, rose oil and lavender oil. New Vitality Health Foods, Inc. carries a wide variety of essential oils.
Sources:
(1) http://www.top10homeremedies.com/news-facts/top-10-health-benefits-foot-massage-reflexology.html
(2) http://draxe.com/heel-spur/
About New Vitality Health Foods, Inc.:
Established in 1988, New Vitality Health Foods, Inc. provides Chicagolands' largest selection of allergy-free foods that have met their high standards for taste, quality, and nutrition. New allergy-free foods are introduced weekly. New Vitality features only the highest quality, effective nutritional supplements to support their customers' total health. They also carry frozen foods, vitamins, herbs, homeopathic, aromatherapy, body care, pet care, household items and much more. New Vitality Health Foods, Inc. is located at Orland Park Crossing, 14225 S. 95th Avenue Suite 410, Orland Park IL, 60462. (708) 403-0120 http://www.newvitalityhealthfoods.com