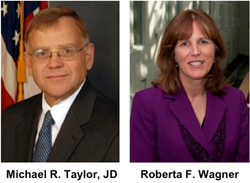 "We are glad to give meaningful information on FSMA straight from the FDA right at a time when three new FSMA rules will be finalized," Rick Biros, FSC conference director and president & publisher of Innovative Publishing Company, LLC
(PRWEB) October 26, 2015
Michael R. Taylor, JD, Deputy Commissioner for Foods and Veterinary Medicine, FDA, will deliver the opening plenary presentation on the Food Safety Modernization Act (FSMA) at the Third Annual Food Safety Consortium (FSC). After his formal remarks, Mr. Taylor will field questions from nearly 400 consortium attendees during a special "Ask the FDA" Town Hall Meeting.
Roberta F. Wagner, Deputy Director of Regulatory Affairs, CFSAN, FDA will deliver the afternoon plenary on FSMA Implementation: FDA's Strategies for Gaining and Maintaining Industry Compliance with the New Rules. Ms. Wagner will address the newest FSMA rules, how FDA will enforce them and strategies for industry compliance.
"We are glad to give our FSC attendees such timely and meaningful information on FSMA straight from the FDA right at a time when three new FSMA rules will be finalized and time is ticking on implementation. Large companies have one year to be FSMA-compliant, small companies have less than two years," explains Rick Biros, FSC conference director and president & publisher of Innovative Publishing Company, LLC.
The Food Safety Consortium conference is a summit meeting of Food Safety and Quality Assurance (FSQA) industry experts and government officials. The agenda is comprised of individual presentations, "Ask The Experts" discussion groups, workshops and training programs running concurrently, coupled with overarching plenary sessions paired with a table-top exhibition. The Food Safety Consortium model is based on harnessing the energy and leveraging the knowledge base of many well-respected industry experts. In having these experts run their own conference, workshop, training program, and/or presentation, all under one roof, the model lends itself to being called a "Consortium."
Conference Tracks:

Compliance (FSMA and GFSI)
Food Manufacturing & Operations
Food Safety Supply Chain Management
Food Labs
Foodservice & Retail Food Safety
"Ask the Experts" Discussion Groups
Pre- & Post-conference Banquet, Workshops & Training:

Certified Professional-Food Safety (CP-FS) 2-day Training & Exam
Certified in Comprehensive Food Safety (CCFS) 2-day Training & Exam
Listeria Mitigation Workshop
FSSC 22000 Harmonization Day
STOP Foodborne Illness Fundraising Benefit
Certified Food Safety & HACCP Manager Workshop and Review
How to best select your GFSI Standard & Certification Body Workshop
Pulling it all together: A FSMA Compliance Workshop
Recall Readiness Workshop: A Mock Recall Exercise
Convert Your HACCP Program to HARPC Workshop
Innovative Publishing Company LLC (IPC) delivers industry-specific opportunities for business growth and professional development through an integrated B2B platform that includes online publishing, conferences, webinars and hybrid events. IPC's online journals include MedTech Intelligence, Food Safety Tech and Cannabis Industry Journal. Our focus is to provide game-changing knowledge and expert opinions about breaking news, innovative technology, emerging trends and ever-changing international regulations. Our mission is to aid in the advancement and progress of global industries that contribute to a healthier world.
###