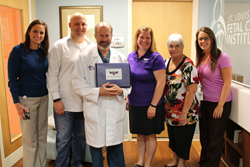 "This simple act of kindness reminds our families that they are not alone in this journey." - Fetal Care Institute Program Coordinator Katie Francis
(PRWEB) October 29, 2015
During visits with the specialists at the SSM Health St. Louis Fetal Care Institute many of the families get news that will change the course of their lives forever, learning that their unborn baby will need to fight for their life before they even leave the womb.
When a family receives news of a devastating prenatal diagnosis even the most basic needs can become cumbersome, which is where Catherine Cares steps in. The organization provides fuel and restaurant gift cards to families who have received devastating news about their child.
"This simple act of kindness reminds our families that they are not alone in this journey. Many of them travel for hours to see the specialists at the Fetal Care Institute. A gift card for a meal, or to help cover fuel costs means so much to them," says Fetal Care Institute Program Coordinator Katie Francis.
The team at the St. Louis Fetal Care Institute will distribute 47 gifts cards from Catherine Cares to families in need.
Photo Caption: Catherine Cares founders present 47 gift cards to the team at the SSM Health St. Louis Fetal Care Institute. Pictured L-R: Katie Francis, Fetal Care Institute program coordinator, Wayne Turley, Catherine Cares co-founder founder, Dr. Mike Vlastos, Fetal Care Institute director, Lauren Turley, Catherine Cares co-founder, Marge Mesplay, Fetal Care Institute technical assistant, and Kate Koenen, Fetal Care Institute nurse coordinator.
###
About the SSM Health St. Louis Fetal Care Institute
The SSM Health St. Louis Fetal Care Institute is a partnership between SSM Health Cardinal Glennon Children's Hospital, SSM Health St. Mary's Hospital, and Saint Louis University School of Medicine. Bringing together renowned maternal fetal medicine (MFM) specialists, pediatric and fetal surgeons, specialized nurses, cutting-edge technology, and a family-oriented approach, the Fetal Care Institute offers state-of-the-art diagnostic methods and treatment options for families whose unborn babies are facing medical challenges. It is one of the nation's leading comprehensive fetal care programs, offering a variety of fetal interventions and treatments, including open and minimally invasive fetal surgery for babies in the womb.
About Catherine Cares
Catherine Cares is a 501(c)3 non-profit organization that provides restaurant and fuel gift cards, as well as other tangible items to families and women who receive devastating news about their child, living or unborn. Catherine's parents founded Catherine Cares as a legacy for their daughter who was prenatally diagnosed with Trisomy 18, and passed away shortly after she was born.