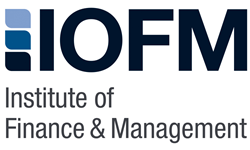 IOFM is pleased to have the opportunity to work with Oracle and is proud to be part of this year's Oracle OpenWorld conference
San Francisco, CA (PRWEB) October 23, 2015
The Institute of Finance & Management (IOFM), a business unit of Diversified Communications, is pleased to announce the offering of two exclusive educational workshops at this year's Oracle OpenWorld to be held in San Francisco from October 25 through October 29, 2015. IOFM worked with the Oracle GRC team to develop the workshop content, case studies, and tools focused on governance, risk management, and compliance (GRC). Attendees of both workshops will receive a total of 1.5 Continuing Education Units (CEUs) granted by IOFM. These CEUs can be used towards maintaining a professional designation.
Brian Cuthbert, Executive Director of IOFM, is "pleased to have the opportunity to work with Oracle and is proud to be a part of this year's Oracle OpenWorld conference."
"Modern Risk Management: Framework & Best Practices to Develop an Internal Controls & Compliance," will be offered on Monday, October 26 from 3:30 to 4.30 PM in the Cooper Room at the Hotel Zelos and will be presented by internal controls and compliance expert Chris Doxey, CAPP, CCSA, CICA, CPC. Ms. Doxey looks forward to presenting her workshop and notes, "Although risk assessment methodologies have been around for quite a while, their prominence in the compliance field is a fairly recent phenomenon. The new view is that compliance risk management programs can no longer just be "adequate". The expectation is that organizations commit the appropriate resources to risk management solutions and to establish and maintain a "strong" culture of compliance, ethics and risk management. Compliance risks come in all shapes and sizes and affect every facet of the business – specifically the Record to Report (R2R) process."
The second IOFM sponsored workshop, "Your Top Procure-to-Pay Risks & the Case for Automating Controls," will be presented by Jon Casher on Tuesday, October 27 from 2:30 to 3:30 PM also in the Cooper Room at the Hotel Zelos. When asked about his workshop, Mr. Casher explained, "This unique and interactive workshop will analyze "real life" case studies from the all components of the Procure to Pay (P2P) process that include: Procurement, T&E, P-Card, AP, and Disbursements. The attendees will have an opportunity to discuss "what went wrong" and will determine the key internal controls that were missing."
For an invitation to our exclusive workshops contact: dane.roberts(at)oracle.com.
ABOUT IOFM
The Institute of Finance and Management (IOFM) is the leading organization providing training, education and certification programs specifically for professionals in Accounts Payable, Procure-to-Pay, Accounts Receivable and Order-to-Cash, as well as key tax and compliance resources for Global and Shared Services professionals, Controllers and their F&A teams.
IOFM has certified nearly 20,000 financial operations professionals worldwide through its four certification programs. These programs include Accredited Payables Specialist or Manager (U.S. and Canadian specific versions available), Accredited Receivables Specialist or Manager and Certified Professional Controller. The globally recognized AP & AR certifications are available in English, Simple Chinese and Spanish.
IOFM's membership networks, the AP & P2P Network (http://www.app2p.com) and AR & O2C Network (http://www.tarn.com), feature industry research and best practices, metrics and benchmarking data, policies, case studies, tools, templates, and critical compliance and corporate governance resources. The Institute also produces on-demand e-learning resources including video trainings and web-based seminars.
IOFM hosts industry-leading conferences designed to facilitate continuing education and peer networking. These events include the Accounts Payable and Procure-to-Pay Conference and Expo (Spring and Fall), and the Accounts Receivable & Order-to-Cash Conference.
With a universe of over 100,000 financial operations professionals, growing certification and membership programs, and a keen understanding of the issues and content needs critical to the profession, IOFM is the trusted source of information in the rapidly evolving field of financial operations.
Trademarks
Oracle and Java are registered trademarks of Oracle and/or its affiliates.