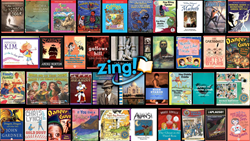 "I am literally crying right now. I just open the [Zing] library, and I know now that my ELL students will be successful. Thank you for making this program free for myself and my students," said Marta Nangle, an ESL teacher from Cedar Ridge Elementary
Holbrook, NY (PRWEB) October 27, 2015
Schoolwide, Inc., a leading provider of educational products and services since 1993, has announced that over 25,000 educators and parents, reaching over 500,000 students in grades PreK–10, have signed up in the last 2 months to receive free unlimited access to thousands of fantastic eBooks in both English and Spanish through the company's new Zing website.
"We are extremely excited about the response we have received to Zing. We had expected a positive response, but the volume and enthusiasm have far exceeded our expectations," said Schoolwide's president and CEO, Jess Cohen. "We are striving to make this terrific free resource available to as many educators and parents as possible. Our goal is to reach 1 million educators and parents over the next 12 months."
Zing is Schoolwide's proprietary new eBook platform. Educators and parents can choose from Zing's extensive selection of thousands of top-quality eBooks from a wide variety of publishers in order to create their very own personalized digital libraries. Zing can be used in school or at home—anywhere an Internet connection is available. Zing also includes numerous interactive educational tools, such as interactive teaching points written by literacy experts embedded directly into the eBooks, short multiple-choice quizzes about the texts, progress-monitoring reports and data to help educators, and a suite of interactive eReader tools that allow students to highlight and annotate text, place bookmarks, and access an interactive digital dictionary.
"I am literally crying right now. I just open the [Zing] library, and I know now that my ELL students will be successful. Thank you for making this program free for myself and my students," said Marta Nangle, an ESL teacher from Cedar Ridge Elementary in Branson, MO.
Principal Tracy Taylor from Bruno M. Ponterio Ridge Street School in Rye Brook, NY, added, "I had a chance to look at Zing, and it looks great! I like the fact that it has rich texts, a wide variety of genres and interests, and books that are in a good range for students."
Educators and parents can sign up for their own Zing accounts by visiting http://www.schoolwide.com/zing and clicking "Get Zing."
About Schoolwide: Because reading and writing are critical for success in school, the community, and the workplace, Schoolwide, Inc. has a central mission to improve students' reading, writing, and learning by increasing the tools teachers can use to teach effectively. Founded in 1993 and based in Holbrook, NY, Schoolwide is a leading provider of educational products and services.