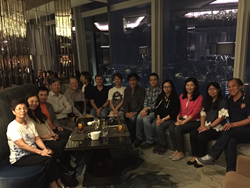 10-years ago, Cactus Technologies was formed to meet the requirements of the Industrial Embedded Flash Storage market and continues to exceed expectations to this day.
Winter Springs, FL (PRWEB) October 23, 2015
Cactus Technologies, Ltd., a leading Industrial Embedded Flash Storage Supplier, celebrates a decade of delivering highly reliable flash storage products to WW OEMs this month.
Sai-Ying Ng, President and CEO of Cactus Technologies stated, "I would like to thank the OEM customers who placed their trust and confidence in Cactus over the past 10 years. I would also like to thank the Cactus Staff, Manufacturing, Distributors and Representatives worldwide for their remarkable efforts to make this possible. We look forward to continued success and growth together over the coming decades."
Key products which have contributed to the success of Cactus are SLC memory cards such as Industrial CompactFlash, Industrial SD Card, Industrial CFast and several others. For budget limited applications, MLC NAND based memory cards with the highest in class reliability are also available.
In addition to quality product offerings, other Cactus advantages include unmatched sales and technical support as well as locked-BOM, where no changes occur within the flash storage devices for many years.
Steve Larrivee, VP Sales & Marketing of Cactus Technologies Ltd. commented, "In the early 2000s it was apparent there was a need for a stable, reliable supplier of Industrial embedded flash storage products. 10-years ago, Cactus Technologies was formed to meet this market requirement and continues to exceed expectations."
Cactus Technologies supports OEMs Worldwide to meet their objectives with the highest reliability Industrial Embedded Flash Storage Products using industry leading controller technology and industrial strength flash memory. Our Industrial products enable OEM's systems to operate without a fault in the harshest and most mission critical environments.
1 MByte = 1 million bytes; 1 GByte = 1 billion bytes; 1Gbit = 1 billion bits.
Cactus Technologies and the Cactus logo are trademarks of Cactus Technologies, Ltd., registered in the U.S. and other countries. Other brand names mentioned herein are for identification purposes only and are trademarks of their respective holder(s).