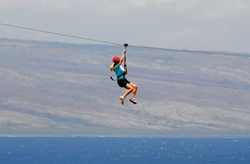 Skyline Eco-Adventures is committed to giving back and we were thrilled to be able to donate over 1800 food items to our local Maui and Kauai Food Banks, said Danny Boren, President of Skyline Eco-Adventures.
Maui, Hawaii (PRWEB) October 23, 2015
Skyline Eco-Adventures, Hawaii's Award Winning commercial zipline company and operator of the first zipline course in the United States, launched their 2nd annual Skyline Loves Kama'aina Hawaii resident promotion in October supporting local Food Banks on Maui and Kauai.
Skyline Eco-Adventures offered free Zipline tours in October to residents of Hawaii on Skyline's two Maui courses including Skyline Haleakala and Skyline Ka'anapali along with Skyline Poipu on Kauai. The promotion included the donation of 5 non-perishable food items per person to support local Hawaii Food Banks. The promotion zipped over 350 Kama'aina residents supporting the donation of more than 1800 food items to the Maui Food Bank and Kauai Independent Food Bank
Skyline Eco-Adventures is committed to giving back to the communities they operate in and as a member of 1% For The Planet, Skyline donates 1% of annual revenues to local community and conservation causes. For more information on Skyline's charitable giving, visit http://www.zipline.com/community and http://www.zipline.com/conservation Skyline Eco-Adventures will be holding its 5th annual Zip 4 The Trees fundraising event benefiting Maui's Children's Charities on Sunday November 15th, 2015 on the Skyline Haleakala Course. Visit http://www.zipline.com/zip4thetrees for more information.
Skyline Eco-Adventures was recently named among Hawaii Business magazine's 2015 Best Places to Work in Hawaii for the seventh consecutive year. Skyline was also selected among more than 100,000 picks in HAWAI'I Magazine's second-annual Reader's Choice Awards, earning top 2015 honors in three categories: No. 1 Zipline Company; No. 1 Zipline Course, Ka'anapali, Maui; and No. 1 Land Activity/Adventure Tour Company.
Skyline Eco-Adventures is a leading commercial zipline company that thrills more than 80,000 guests annually with "knock-your-socks-off" experiences. Skyline operates two Maui zipline tours at Ka'anapali and Haleakala, in addition to the Akaka Falls Skyline Adventure on Hawaii Island, and the Poipu Skyline Adventure on Kauai. Call (808) 518-6335 or visit http://www.zipline.com.