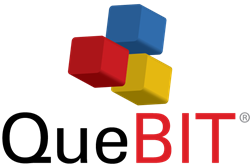 It is rewarding to know that our partner IBM also recognizes our ongoing investments, as we constantly evaluate market needs and current trends, to stay ahead of the curve to remain one if IBM's top value-added partners," said Catherine Jirak, COO
SCARSDALE, NEW YORK (PRWEB) October 26, 2015
Gary Quirke, CEO of QueBIT stated, "We are honored to receive our fourth major award from IBM in the past four years. It is gratifying to be consistently recognized as we have evolved from an organization that once specialized in Financial Analytics, to one today that is able to offer industry leading expertise across the entire spectrum of Business Analytics. Today, our solutions draw from our extensive knowledge of best practices across a wide array of vertical markets. We strive to continue this journey as we transition our solutions to the Cloud, and extend our services offerings to not only encompass Knowledge Transfer (Collaborative and Rapid Enablement - CARE) but to also provide Managed Services (QueBIT Quality Services - QQS)."
"QueBIT's mission is to provide unmatched business solutions utilizing our world class experts in analytics. As the recipient of IBM's Financial & Operational Performance Management Partner of the Year Award, we are proud that QueBIT is being recognized both for its solutions and the incredible depth of its analytics expertise. That hard earned expertise is a product of QueBIT's commitment to developing expert staff with outstanding leadership. It is rewarding to know that our partner IBM also recognizes our ongoing investments, as we constantly evaluate market needs and current trends, to stay ahead of the curve and remain one of IBM's top value-added partners," said Catherine Jirak, COO of QueBIT.
Last year, QueBIT was the recipient of the IBM North America Business Partner Excellence Award. In 2013, QueBIT was the recipient of the Worldwide Overall Business Analytics Business Partner Excellence Award. In 2012, QueBIT was the recipient of the IBM Business Analytics North America Business Partner Excellence Award. At previous IOD conferences, QueBIT has been recognized with awards including Worldwide Financial Business Analytics Achievement, Mid-Market Partner of the Year, and Sales Excellence.
About QUEBIT
Trusted experts in analytics strategy and implementation, QueBIT is dedicated to helping organizations improve their ability to make intelligent decisions that create value. An IBM Premier Partner, QueBIT has conducted hundreds of successful implementations of IBM® Cognos® TM1®, IBM Cognos BI and IBM SPSS—we are one of few partners that offer such a broad range of analytics solutions. QueBIT-developed FrameWORQ software further enriches these solutions. Our unique CARE methodology coaches customers throughout implementation to independently manage and maintain their system and achieve the lowest cost of ownership. Customized in-person and computer-based training courses are taught by our senior experts. Financial, sales, marketing and operations departments in over 350 organizations in all types of industries say QueBIT's singular approach to business analytics produces tangible results—which is why we are repeat recipients of IBM's Business Analytics Partner Excellence Awards. http://www.quebit.com
To find out more information on how QueBIT can work with your organization to achieve the results, please contact us at 1800-QUEBIT1, email us at info(at)quebit(dot)com, or visit our website: http://www.quebit.com