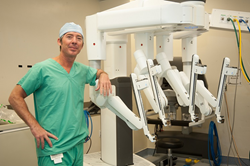 Miami, FL (PRWEB) October 22, 2015
Nicklaus Children's Hospital, part of Miami Children's Health System, has become the first pediatric hospital in Florida to acquire the da Vinci® Xi™ Surgical System, which can be used across a spectrum of minimally invasive surgical procedures, including general pediatric, urologic, thoracic, cardiac and gynecologic surgery.
The da Vinci Xi system offers a three-dimensional high-definition (3D-HD) vision system, special instruments and computer software that allow surgeons to operate with enhanced vision, precision, dexterity and control. The 3D-HD image is highly magnified offering surgeons a close-up view of the surgical site. The da Vinci instruments have mechanical wrists that bend and rotate to mimic the movement of the human wrist.
"We are delighted to offer the latest, most advanced version of the da Vinci robotic system to the surgeons on our medical staff. It is part of our commitment to optimizing patient care and surgical excellence," said Jackie Gonzalez, Senior Vice President and Chief Nursing Officer at Nicklaus Children's.
Pediatric general surgeons and urologic surgeons on the medical staff of Nicklaus Children's will use the equipment for a variety of procedures. Physicians on the staff include several who are among the most experienced in the region in performing robotic surgery.
The da Vinci system supports a less-invasive technique than traditional surgery. Procedures are always performed entirely by a surgeon. After the surgical site is accessed through tiny incisions, the da Vinci system translates the surgeon's hand movement into smaller, more precise actions of tiny instruments inside the patient's body. Benefits generally associated with da Vinci surgery include:

Shorter hospital stay
Reduced blood loss
Reduced complications
Reduced need for narcotic pain medicine
Faster recovery
Reduced scarring
For more information on the da Vinci® Xi™ Surgical System, please visit http://www.davincisurgery.com
For more information about minimally invasive surgery options at Nicklaus Children's Hospital, please visit http://www.nicklauschildrens.org